NSW RFS volunteers recognised in Queen's Birthday honours list
Published Date: 14 Jun 2021
Summary
Seven NSW Rural Fire Service members have been recognised this year for their commitment to the community as part of the Queen's Birthday honours list 2021.
NSW RFS Commissioner Rob Rogers said these members represent what the NSW RFS is truly about – a commitment to community and dedication to help others.
"With more than 330 years of combined service, they have a lengthy list of achievements ranging from leadership roles, some during the 2019-20 Black Summer fires, to mitigating bush fire risk and strengthening brigade operations in local areas, and mentoring their fellow members by sharing their decades of experience and knowledge," Commissioner Rogers said.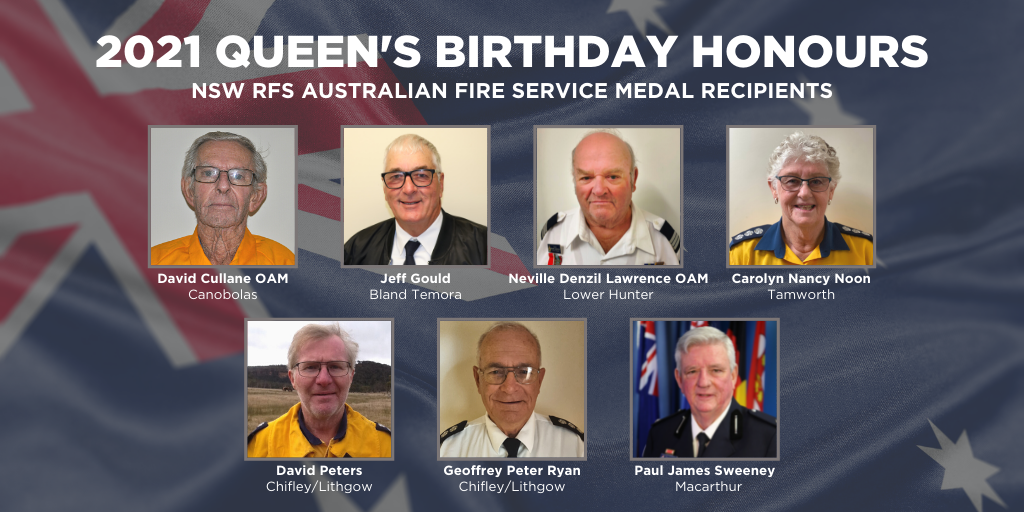 Congratulations to the following NSW RFS Australian Fire Service Medal recipients:
David Cullane OAM – Canobolas
Jeff Gould – Bland Temora
Neville Denzil Lawrence OAM – Lower Hunter
Carolyn Nancy Noon – Tamworth
David Peters – Chifley/Lithgow
Geoffrey Peter Ryan – Chifley/Lithgow
Paul James Sweeney – Macarthur
Firefighter David Cullane OAM – Canobolas, Area Western
Firefighter David Cullane OAM has been actively involved within the NSW Rural Fire Service (NSW RFS) for more than 70 years joining the Rivers Brigade in the Cowra Fire District in 1951. He has held the positions of Brigade President, Deputy Captain, Captain and Group Captain.
In 1984, Firefighter Cullane was elected Group Captain, this position was held concurrently with position of Brigade Captain of Rivers. During his time as Group Captain, he managed five brigades in the Rivers Group. One of his duties in the pre-season included ensuring his group of brigades had all equipment inspected and operational in time for the fire season.
Firefighter Cullane attended as a volunteer representative to the Bush Fire Management Committee, Senior Management Committee, and Liaison Committee to assist with zoning. His invaluable knowledge of the community was pivotal in the success of this project.
When the Bush Fires Act 1949 was replaced by the Rural Fires Act 1997, Firefighter Cullane was actively involved with disseminating the changes to local farmers and the community to ensure compliance across the service. He was instrumental in providing information and training to key stakeholders.
Firefighter Cullane continues to be an active member of the Brigade, holding the Brigade President role for more than 10 years. He continues to arrange training at a brigade level and assists the District with organising further training for the brigades. He is very approachable and well respected throughout the area, and continues to be sought for NSW RFS, Community and Brigade advice. Firefighter Cullane is community centric and devoted to the NSW RFS. He secured the Rivers Brigade's future by generously donating land for the Rivers Brigade Station.
Firefighter Cullane received an Order of Australian Medal in 1998 for his dedication and service to the Rural Community of the Cowra and Canowindra Districts, through River and Farm Management initiatives and the Rivers Brigade. He also received the National Medal, National Medal - First Clasp, National Medal - Second Clasp, National Medal - Third Clasp in 2001.
Firefighter Cullane is nominated for his dedication and committed service that he has provided to the NSW RFS, Rivers and Canowindra Communities and Cowra Local Government Area over the last 70 years.
Firefighter/President David Cullane OAM is a worthy recipient of the Australian Fire Service Medal.
Group Captain Jeff Gould - Bland Temora, Area South Western
Group Captain Jeff Gould joined the Wamboyne Brigade of the NSW Rural Fire Service (NSW RFS) in 1975 and has held the roles of Captain and Group Captain. He has been an active volunteer ever since joining holding the NSW RFS 40-year Long Service Medal and clasp for service to the NSW RFS. He has held the positions of Training Officer, Brigade Captain and Tanker Custodian.
Group Captain Gould generously housed the Brigade tanker on his property for many years until the tanker was decommissioned and replaced with a new Category 1 tanker. He then donated land from his property to the NSW RFS to house the new tanker in a newly constructed single bay transportable brigade station.
Group Captain Gould held the Wamboyne Brigade Captain position from 2000 until 2008 when he was nominated and dually elected as Group Captain for Bland Temora Zone. He has continued his role as Group Captain for the Bland Temora Zone since 2008 and still holds this role today.
Group Captain Gould is well respected within the community as he leads by example and is not afraid to take on roles and responsibilities over and above that expected of him. His commitment in representing volunteers on the Zones Bush Fire Management Committee, Liaison Committee and Senior Management team is well recognised and appreciated as is his ability and leadership on the fire ground.
In 2008, Group Captain Gould was employed by the NSW RFS for three months to assist with the servicing and inspection of Brigade tankers, Stations and equipment. This demonstrates the level of respect that the NSW RFS has for his level of experience and value which he gained as a volunteer of many years.
Whether it's a Class 1, 2 or 3 incident, after action review, or attending pre-season and post-season Captains meetings, Group Captain Gould's contribution and engagement with our volunteers, land managers, officers and major stake holders is outstanding and well received.
Group Captain Gould is not afraid to speak up and always seeks timely reliable information to ensure he represents our volunteers and the wider community in the best way he can. He is a worthy NSW RFS volunteer as he represents the Service in a positive, respectful and inclusive manner and has dedicated many years and personal resources to the service.
Group Captain Jeff Gould is a worthy recipient of the Australian Fire Service Medal.
Firefighter Neville Denzil Lawrence OAM – Lower Hunter, Area Hunter
Firefighter Neville Denzil Lawrence OAM joined the NSW Rural Fire Service (NSW RFS) as a member of the Gresford Brigade in December 1965 and has served continuously since then. He has held the roles of Brigade Training Officer, Permit Officer, Brigade Treasurer, Deputy Captain, Senior Deputy Captain and Captain. In 1994, he was elected as Captain of the Gresford Brigade and held this position until December 2019 when he stood down due to a medical condition. Neville was also a member of the Lower Hunter Zone (concept) Working Party from 2000 to 2001.
Firefighter Lawrence's contribution to the Service is heralded in Dungog Shire. His contribution to the Gresford Brigade is outstanding. Whilst his leadership and professional knowledge is clearly evident in the numerous positions he has held, his initiative and resourcefulness are the traits that are meritorious and often unnoticed in the public eye.
As Deputy Brigade Captain, Firefighter Lawrence embarked on an ambitious project in 1985 to refurbish the existing Gresford Station to incorporate meeting facilities, amenities and the construction of a new two bay shed to accommodate firefighting appliances. This enormous project was fully funded and financed by the Gresford Brigade and Firefighter Lawrence was the driving force in all fund raising activities including Friday night raffles at the Gresford Bowling Club, operating the barbeque at the Annual Gresford Billy Cart Derby and catering at local functions. These fund raising ventures extended over an 18-year period with the shed improvements being completed with an additional bay added to the two bay shed in 2002; with a capital cost of approximately $240,000. Under Firefighter Lawrence's guidance, the Gresford brigade also volunteers their services to direct traffic control at the Gresford ANZAC Day March and supervising admission and parking at the Annual Gresford Rodeo who generously donate to the Brigade. He also organizes fire support for the Annual Gresford Agricultural Show and the Gresford Billy Cart Derby.
Firefighter Lawrence's operational record is vast and the out of area deployments he has attended over many years are recorded and minuted back to the 1960's. He was also a member of the Gresford team that won the inaugural NSW State Championship Field Days.
Firefighter Lawrence is a key member of the Community Engagement team and involved with Community workshops to assist with the preparation of Bushfire Survival Plans, practical use of pumps, fire blankets, extinguishers and sprays. He also continues his association with many other organisations as a liaison between those groups and the Brigade.
Firefighter Lawrence is a Life Member of the Brigade and has been awarded his National Medal 1st, 2nd and 3rd clasps and the Long Service Medal and 50-year clasp. In 2007, he was nominated as Dungog Shire Citizen of the Year for his contribution to the NSW RFS. In 2014, he was awarded the NSW RFS Commissioners Commendation and on Australia Day 2017 he received the Order of Australia Medal (OAM) for his distinguished and exemplary service to the NSW RFS and the greater Community.
Brigade President Neville Lawrence is a worthy recipient of the Australian Fire Service Medal.
Group Captain Carolyn Nancy Noon – Tamworth
Group Captain Carolyn Nancy Noon formally joined the Woolbrook Fire Brigade of the NSW Rural Fire Service (NSW RFS) on 31 December 1989, and has been a member of several Brigades over her 32-year tenure. During this time, she has held the roles of Brigade Training Officer, Brigade Secretary and Deputy Group Captain.
For many years, Group Captain Noon held the role of Group Captain for Tamworth and the New England Zone concurrently, and performed these duties to an exemplary standard, setting the tone and benchmark not just for volunteer leadership, but leadership with the Service as a whole. During her career, she has displayed extraordinary leadership, professionalism, sacrifice and devotion to her community, fellow volunteers and the Service. A highly experienced, substantially qualified and expert firefighter in her own right, she has held significant leadership roles at many incidents, and has the highest reputation within the District and Area.
Group Captain Noon is a high profile role model and mentor for female members of the District demonstrating what young female volunteers are capable of in their communities and the Service. Heavily involved in training and assessing over her volunteer career, she is a highly regarded and qualified Rural Fire Driving Instructor, recognised as a subject matter expert, and the primary 'train the trainer' for the New England North West, the benefits of which have been exponential across the State.
Group Captain Noon is a qualified and experienced Critical Incident Support counsellor, a critical role she has fulfilled for many years providing ongoing and comprehensive support to members in need anywhere in the State. Drawing on her training, experience and extraordinary interpersonal skills, she has had an impact on the Service's broader capability and put a face to deep humanity. Group Captain Noon has sat as the Chair of the District Disciplinary Panel, and not only demonstrated perception and insight; she has done so with credibility, reliability and prudence to the disciplinary process which has directly improved the capability of the Organisation.
Her character, leadership and disposition can be illustrated in an incident that occurred in 1999 where she and her husband were called to a remote property near Walcha in the New England area of NSW where a farmer had been struck by an aircraft propeller. She remained with him for over an hour, and stabilised him until NSW Ambulance was able to arrive. She then remained on the scene to assist NSW Ambulance officers until NSW Westpac Rescue Helicopter could arrive. It was assessed that their actions directly contributed to saving the injured man's life. Consequently, Group Captain Noon, her husband and her daughter received both the Rural Fire Service Commissioner's Commendation for Service and the Royal Life Saving Award for actions taken during the event which not only saved the individuals life, but did so representing the highest traditions of the NSW RFS.
She has been instrumental in her Brigades and regional NSW, not just in operational response but in engendering pride, enthusiasm and esprit de corp. Her example is one of community volunteering in the highest possible regard, and her long and distinguished service make her a most worthy candidate for this award.
Group Captain Carolyn Noon is a worthy recipient of the Australian Fire Service Medal.
Group Captain David Peters - Chifley/Lithgow, Area Western
Group Captain David Peters joined the Hartley District Bush Fire Brigade of the NSW Rural Fire Service (NSW RFS) in 1976 at the age of 15 and immediately became very active within the brigade as an operational member. His commitment to the brigade saw him elected to the positions of Training Officer, Deputy Captain and Brigade President, which he has held for over 20 years.
Whilst performing the various brigade roles, Group Captain Peters was also elected as Group Captain in 2001, a position he continues to perform with outstanding leadership and commitment. Once elected as Group Captain, he was appointed a member of the Lithgow Bush Fire Advisory Committee for his operational expertise and diplomatic skills.
Group Captain Peters was elected by his peers to be the volunteer representative on the Lithgow Bush Fire Management Committee (BMFC), from its inauguration. He has been instrumental in the development and implementation of Bush Fire Risk Management Plans to identify and mitigate the risk of bush fires in the many and varied communities throughout Lithgow. Group Captain Peters has regularly chaired the BFMC meetings, with unanimous support from every BFMC member as he always provides constructive input into the directions and actions of the committee.
Group Captain Peters has always supported hazard reduction as a risk management strategy, utilising his strategic firefighting skills and lengthy experience as a rural property owner. His input into BFMC meetings and working groups has been invaluable in creating a hazard reduction strategy for the district. His commitment is also evident in his continuous involvement in planning, preparing and implementing hazard reductions throughout the district. Group Captain Peters has greatly assisted each of the NSW RFS staff who have commenced work in the area.
Group Captain Peters has been a member of the Senior Management Team for 20 years and is regularly their appointed spokesperson for contentious matters to raise them in an articulate manner; as well as for his dedication to resolve them effectively. His peers have also elected him as their representative on the District Liaison Committee to proactively address matters involving Council.
Group Captain Peters is a keen mentor for members within the Lithgow district as they advance through various leadership roles. His work to improve the firefighting capability of the members and brigades as a trainer and assessor is highly regarded. He represents the NSW RFS with integrity and professionalism and has only enhanced the respect held for our volunteers and organisation as a whole by the community and other agencies/organisations.
Group Captain Peters continues to be a strong and decisive leader of Lithgow volunteers. His willingness to provide support, direction, mentorship and leadership in operational and non-operational activities, anywhere in the district was further exemplified during the 19/20 season. He performed with distinction as a Divisional Commander for many weeks, in numerous areas, along a 90km front. Even as his own property was damaged by the devastating fire.
Group Captain David Peters is a worthy recipient of the Australian Fire Service Medal.
Group Captain Geoffrey Ryan - Chifley/Lithgow, Area Western
Group Captain Geoffrey Ryan joined the Rockley Brigade in 1968 and has remained an active member for over 52 years. Due to Group Captain Ryan's extensive fire knowledge, commitment and dedication to the Rockley and surrounding Brigades, he was elected Group Captain in 2004, a role which he still holds today. He is a tireless worker devoting countless hours to the NSW Rural Fire Service (NSW RFS) and especially the Brigades he represents.
Group Captain Ryan has been the driving force for many years to keep the local Arkell, Lagoon, Trunkey and Rockley Brigades active by overseeing each Brigade's membership and ensuring the member's skills and qualifications remain up to date. He has also been involved in the mentoring of Chifley's Deputy Group/Group Officers and has assisted at every Group Leader course held in the Chifley district. He has also been instrumental in improving the working conditions of the Chifley Lithgow Group Officers due to his ongoing perseverance to have vehicles and equipment allocated to each Group Officer to enable them to perform all tasks required of them at incidents in a quick and efficient manner.
Group Captain Ryan has also been a representative on the Chifley Senior Management Team for many years and is a representative member on a number of other committees including the Zone Liaison Committee and the local Bushfire Management Committee. Over the years, he has attended numerous local incidents and several S44 fires including the State Mine Fire in 2013 and more recently the Gospers Mountain Fire in 2019/20. Group Captain Ryan was always willing to assist the Lithgow section of the IMT and assisted with night operations when required. One of his greatest achievements has been contributing as one of the founding members of Division 8 of the NSW RFS Association (RFSA). He continues to serve in the role of Chairman, a role he has also held for several years. He is a State Council Representative and a long serving delegate on the RFSA Consultative Committee, travelling across the State each year, a task he has diligently performed for many years.
Group Captain Ryan has been an outstanding and dedicated member of the NSW RFS and a passionate member of the RFSA, constantly working for the betterment of the members he represents and promoting the Service as a whole. An example of this is his outstanding commitment to the mentoring of the next generation of Brigade and Group Leaders. Group Captain Ryan is a true gentleman and quiet achiever. The staff and members of Chifley Lithgow team have no hesitation in supporting this nomination for this long serving and dedicated officer for the well deserving acknowledgement and recognition of his 52 years of service to the community, the NSW RFS and the RFSA.
Group Captain Geoffrey Ryan is a worthy recipient of the Australian Fire Service Medal.
Fire Investigator Paul Sweeney - Macarthur, Area Greater Sydney
Fire Investigator Paul Sweeney has demonstrated exemplary leadership, dedication and commitment throughout his membership and service in both voluntary and employed capacities with the NSW Rural Fire Service (NSW RFS). Commencing in 1989 with Leppington Brigade, he held the positions of Firefighter, Brigade Training Officer, Brigade Secretary, Brigade Treasurer, Deputy Captain, Senior Deputy Captain, Captain and also achieving Deputy Group Captain in the Camden District.
Fire Investigator Sweeney's service has included numerous out of area deployments such as Strike Team Leader Operation Autumn Storm 1999 and Task Force Commander Canberra Fires 2003. His honourable achievements include being appointed in a leadership function for NSW RFS for 2000 Sydney Olympics and Paralympics. His role included lead trainer for Olympic Volunteers in Police (OVIP) and Venue Liaison Officer.
Fire Investigator Sweeney became a Peer Support Officer with the Critical Incident Support Services (CISS) in 2002 and then became a Critical Incident Support Services (CISS) Duty officer in 2008 until present. As a Duty Officer, he performs a leadership role that includes being on call to assess requests made to critical incident support services and to determine appropriate actions necessary to ensure effective crisis responses, provision of psychological and mental health first aid. He also performs a supervisory function ensuring suitable case management and effective wellbeing and care of peer support officers. As a senior member of the CISS team, he has attended a very large number of traumatic incidents and events throughout NSW and has performed an extraordinary number of hours in volunteer service. He has attended national and international congresses to receive higher level knowledge and training in peer support crisis intervention methodologies.
Fire Investigator Sweeney was employed in 2005 and appointed to the rank of Inspector as the Learning and Development Officer with the Southern Highlands District. Soon after, he was appointed to Region East as the Operations officer and Fire Investigator who was responsible for training and supervising a team of wildfire and structural investigators.
Fire Investigator Sweeney was deployed in 2009 to Queensland Fire and Rescue Service for fire investigations in Rockhampton and also assisted in training Korean wildfire investigators in 2014.
Fire Investigator Sweeney retired from employment in 2012, however he still remains an active volunteer Fire Investigator and CISS Duty Officer. In 2018, he represented the NSW RFS as a member of the delegation to assist in the Gallipoli commemoration at Anzac Cove, Turkey.
Paul has demonstrated exemplary service as a member with the NSW RFS who upholds the highest of organisational values. His length of service as a volunteer and staff member coupled with his critical support in many areas of the NSW RFS proves his worthiness to receive this Medal.
Fire Investigator Paul Sweeney is a worthy recipient of the Australian Fire Service Medal.