Asset Protection Zones
Development on bush fire prone land will normally require the implementation of a set back distance which is referred to as an asset protection zone. An asset protection zone (APZ) is also known as a fire protection zone and aims to protect human life, property and highly valued assets. It is a buffer zone between a bush fire hazard and buildings, which is managed progressively to minimise fuel loads and reduce the potential radiant heat levels, flame contact, ember and smoke attack on life and property.
The width of the APZ will vary with slope, vegetation, Fire Danger Index (FDI) and construction level. Planning for Bush Fire Protection 2006 sets out the site assessment methodology that should be used to determine the applicable width of the APZ.
An APZ can consist of an area maintained to minimal fuel loads and can comprise of a combination of perimeter roads (subdivision), fire trails and managed lands so that a fire path is not created between the hazard and the building.
For forest vegetation the APZ can be made up of an Inner Protection Area (IPA) and an Outer Protection Area (OPA). The IPA should be located immediately adjacent the asset, incorporate a defendable space and significantly reduce the heat intensities at the building surface. The OPA is a fuel reduced area that is designed to reduce the potential flame length by slowing the rate of spread, filtering embers and suppressing crown fires.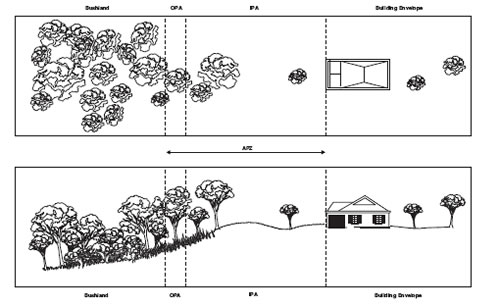 Creating an APZ for New Development
An APZ should be located wholly within the development property. Developments should not offset APZ to neighbouring land unless exceptional circumstances apply. You cannot clear vegetation on a neighbour's property or on lands administered/owned by National Parks, the Crown or under the management of your local council without written consent from the owner (an easement or plan of management).
If you are constructing an APZ for a new dwelling you will need to comply with the requirements in Planning for Bush fire Protection 2006 available in our Publications area. Any approvals required will have to be obtained as part of the development application process. Planning for Bush Fire Protection 2006 outlines the distance requirements for APZ including the requirements for an Inner Protection Area and Outer Protection Area.
The performance criteria and acceptable solutions for APZs can be found in Chapter 4 - Performance Based Controls available in our Publications area.
Creating an APZ for Existing Development
If you wish to create or maintain an APZ for an existing structure you may be required to obtain a Bush Fire Hazard Reduction Certificate or other environmental approval. The NSW RFS offers a free environmental assessment and certificate issuing service for private property in bush fire prone areas. This process may provide an environmental approval for up to 12 months at a time only and if ongoing environmental approval to maintain an APZ is required you will need to contact the relevant authority. Contact your local NSW Rural Fire Service (NSW RFS) Fire Control Centre to determine if you can use this approval process.
If you intend to use fire to remove the bush fire hazard from your property you are required to obtain a fire safety permit through the NSW RFS or Fire & Rescue NSW. The NSW RFS document Lighting A Fire - Quick Facts explains when a permit is required.
If you believe that the land adjacent to your property is a bush fire hazard and requires clearing to create an APZ, you can lodge a complaint with the NSW RFS and action will be taken if required.
For more information about the management of an APZ see the Standards for Asset Protection Zones available in our Publications area.