Employment
Recruitment
Positions in the NSW Rural Fire Service (NSW RFS) are advertised on the NSW Government Jobs website.
In addition, rural positions may be advertised in rural newspapers as required.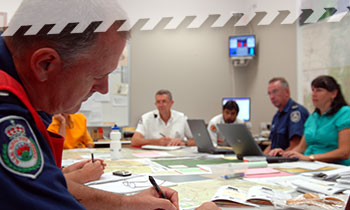 What type of work is available in the NSW RFS?
The NSW RFS employs a range of people with a variety of skills and varying backgrounds. Essentially, the work carried out at Area and District levels includes:
Membership (Brigade management, Learning and Development, OHS&R etc)
Operations (response, hazard management, mitigation, planning and community engagement)
Infrastructure (brigade stations, fleet, communications, IT etc), and
Management.
Our corporate areas include positions in the areas of:
environmental planning and assessment
development control
corporate planning
research
finance
information technology
volunteer support
human resources
engineering
executive services
just to name a few.
Where can I work?
The NSW RFS is located in over 150 centres right across NSW. The majority of these centres are located in our 45 Districts. However, we have seven Area Commands (Greater Sydney, Hunter, North Eastern, North Western, Western, South Eastern and South Western), three Customer Service Centres (Glendenning, Coffs Harbour and Batemans Bay) and Operational and Mitigation Services bases plus our Headquarters at Sydney Olympic Park.
For further information on employment with the NSW RFS see the Information for Employment brochure or contact the Recruitment team by email recruitment@rfs.nsw.gov.au
You may also consider joining your local Rural Fire Brigade as a volunteer member.