Get Ready Weekend 2023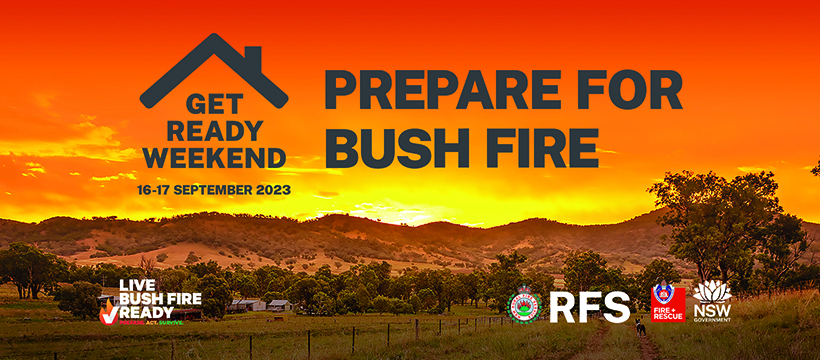 Know your risk this bush fire season.
The risk of bush fires is returning. With several years of wet weather grass and scrub has grown across NSW. Talk to your local RFS members about the likely risk of bush or grass fire in your local area.
In September every year RFS members are out in the community hosting Get Ready Weekend events. Contact your local brigade to find out when and where they are holding an event.
Get Ready Weekend is held across NSW in around 500 locations and its aim is to encourage residents and landowners to plan and prepare for the upcoming bush fire season. To find an event near you, check the lists at the end of this page.
In 2023, the majority of Get Ready Weekend events will be held on the weekend of September 16 and 17.
If you live in an area near grasslands or farms, recent rain has caused widespread grass growth. As this dries out the risk of grassfires increases. Grass fires can start easily and move quickly. Farmlands may be at increased risk.
Even if you live in an area affected by the 2019/20 bush fires, you may be at risk this bush fire season. Many areas are seeing new growth among grasses and shrubs. It takes only a few days of hot dry and windy weather for these to dry out. Fires may start quickly and move quickly.
If you live in an area near bushland that was not affected by recent fires you may be at higher risk this Summer. Recent wet weather has encouraged growth and has hampered efforts for fire agencies to reduce hazards.
With hot and drier conditions expected this Summer, you may be at higher than normal risk of bush and grass fire. Know your risk this bush fire season and prepare well ahead.
Get prepared now at myfireplan.com.au
Find a Get Ready Weekend event near you