Training
Training in the NSW RFS is designed to treat volunteers and staff as equal members of the organisation and to provide training pathways from the most basic new recruit member through to the senior management of the organisation. It is organised at several levels: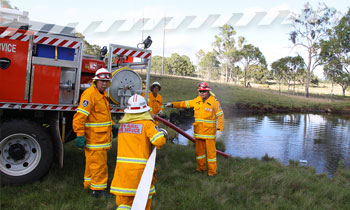 The Learning and Development (L and D) section at the NSW RFS Headquarters has overall responsibility for how all training, assessment and associated activities are run in the NSW RFS.
Most of the training for volunteers is provided at a local district level using programs and materials developed by L and D Systems. Brigades may often be involved in post-course practice training, ongoing refresher training (competency maintenance) and exercises.
Four NSW RFS Regional Offices support and audit the training provided by the districts. The regions also train trainers and provide other training that is not possible to deliver at a local level.
Some specialised sections (e.g. Community Safety, Aviation and Fire Investigation) also provide training directly to volunteers and staff in their specialised fields.
Corporate staff training and development is provided through the NSW RFS Membership Coordination Unit. Within each section, staff may also have their own internal training specific to their section's work.
Volunteer training
Local NSW RFS district offices deliver most of the training provided for volunteers in the NSW RFS. A District Officer is appointed in each area to oversee the Learning and Development (L and D) function. They will usually coordinate a local Training Team, made up of local volunteer trainers and assessors. There are about 2000 volunteer trainers and 1000 volunteer assessors in the NSW RFS.
Volunteer development
Some volunteers of long standing may wish to become more involved in the leadership and management of brigades in their area, take on roles within Incident Management Teams (IMTs) or aspire to become full time employees of the Service. The Volunteer Development Programs are designed to help satisfy such needs. In some cases the programs are unique to them, but others are shared programs with other volunteers run at a local or regional level, or shared with staff at a state level. It provides a link between the volunteer and staff training and development systems.
Staff training and development
More than four out of five members of staff in the NSW RFS are current or former volunteers. The volunteer training system provides a foundation for many of the career qualifications needed by staff with Operational, Learning and Development and Community Safety roles. The system is designed to provide relevant competencies and qualifications that, as far as possible, are readily obtainable, enable career progression and variety within the NSW RFS, and are widely recognised in other workplaces should a person choose to leave the NSW RFS. It also provides for short courses to facilitate changes in technology or legislation, and to address any training issues identified in performance reviews.