Youth in the NSW RFS
Membership Opportunities
Children and young people play an important role within the NSW RFS and in local communities. Participation in NSW RFS activities can help children and young people connect with their community and develop a sense of social responsibility.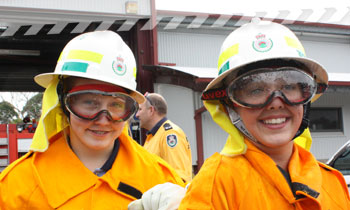 Many NSW RFS brigades offer junior or cadet membership for young people aged from 12 years, however these opportunities vary from area to area depending on a brigade's capacity to supervise, mentor and develop junior members. This may mean some Rural Fire Brigades limit the number of young people in their brigade. Similarly, a Brigade may also raise their minimum age requirement so their programs are age appropriate.
Find out more information about youth membership opportunities in your area here.
Secondary Schools Cadet Program
The NSW RFS Secondary Schools Cadet Program provides Year 9 and 10 students with an insight into fire safety and prevention whilst developing practical life skills and a general appreciation of community service and volunteerism.
Young people participate in the 10 week Secondary Schools Cadet Program through their school, as school students (not as members of the NSW RFS). The Secondary Schools Cadet Program can be linked to NSW Personal Development, Health and Physical Education (PDHPE) Years 7-10 Syllabus.
For more information see our Secondary Schools Cadet Program information brochure.