Honour roll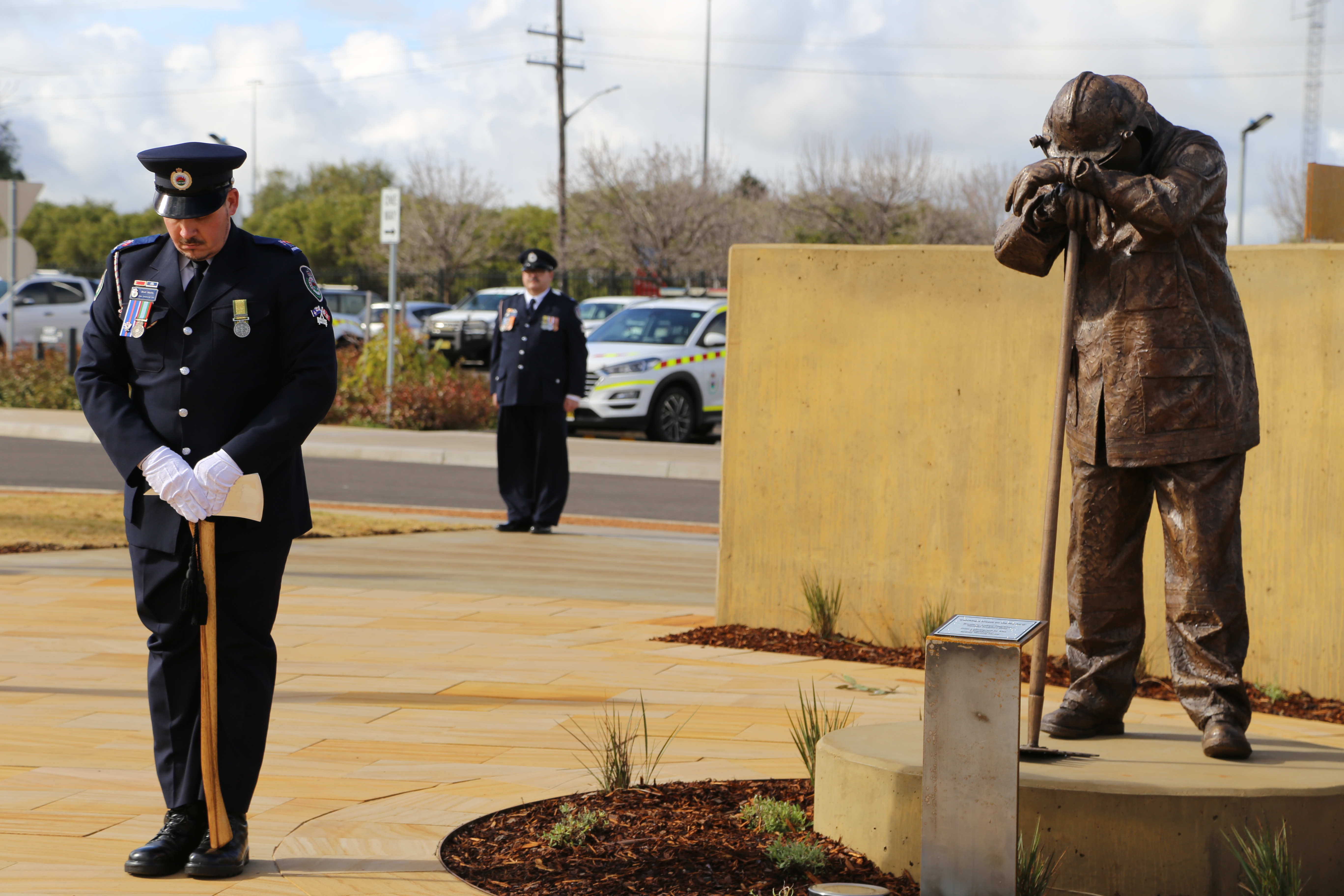 The NSW RFS recognises the contribution and sacrifice of those members who have lost their lives in the line of duty, while helping to protect others in need.
The names of the following volunteers are inscribed on the Volunteer Memorial Honour Roll at Mrs Macquaries Chair, Sydney.
A service is held at the Memorial each October and NSW RFS members, family, friends and members of the community are welcome to attend.
1932
Robert Platt
South West Slopes
1952
John Mitchison
Wollongong
1957
Claude Cooper
Blue Mountains
1964
John McLean
Quirindi
1965

Fred Luck

Ivan Moses

Tom Mills

Bruce Peden

Wollongong

Coolamon

Mulwaree

Mulwaree

1967
Robert Maher
Gundagai
1968

Tom Chalmers

Greg Eley

Peter Hawkins

Leonard Bell

Blue Mountains

Blue Mountains

Blue Mountains

Warringah

1970
Geoffrey Norman
Urana
1975
Neil Hudson
Cobar
1976
Reg Gartrell
Wollondilly
1977
Leslie Delardes
Sutherland
1979

Colin Carter

Arthur Regan

Grant Steele

David Stratton

Gosford

Temora

Warringah

Cabonne

1980

Gorden Foster

Colin Griffith

Steven Crunkhorn

William Cummings

David Marshall

Gregory Rolfe

Vernon Stedman

Albury (CFA)

Mudgee

Sutherland

Sutherland

Sutherland

Sutherland

Sutherland

1981
Charlie Stimson
Wollongong
1982
Fred Dawson
Blue Mountains
1983

Thomas Bielecke

Keith Campbell

Gregory Moon

Sutherland

Sutherland

Sutherland

1984
Colin Witheford
Dubbo
1985

Malcolm Allen

William Gouge

Joe Sawley

Yarrowlumla

Yass

Yass

1986
Harry Eastburn
Narrabri
1987

David O'Brien

Allan Rolles

Paul Rolles

Windouran

Gundagai

Gundagai

1988

Jason Parkes

Allan Rendell

Wellington

Sutherland

1989
Lyal Mangelsdorf
Temora
1990
Christopher Callan
Berrigan
1991
Sidney Greathead
Hornsby
1994

Norman Anthes

Robert Page

Clinton Westwood

Lithgow

Wingecarribee

Wollondilly

1997

Raymond Cox

Colin Eather

Ted Hughes

Peter Estcourt

Terry Williams

Greater Taree

Lithgow

Lithgow

Sutherland

Parkes

1998

Harry Julius

David Quinlivan

Inverell

Wingecarribee

1999

William Cayirylys

Peter McCormick

Bellingen

Greater Taree

2000
Patrick Gehrig
Dungog
2001

Michael Beesley

Bob King

Hume

Shoalhaven

2002

John Overton

Michael O'Shaughnessy

John Bromfield

Lithgow

Blue Mountains

Temora

2003

Alan Margerison

Angela Robertson

Michael Hanly

Kiama Shellharbour

Lake Macquarie

Nundle

2004
Graham Patton
Singleton
2005
Colin Jackson
Lismore
2011
Donald Deppeler
Blacktown
2013
Michael Maria
Lake George
2014
Peter Witton
Kyogle
2015
Paul Sanderson
Cessnock
2016
Jitte Nieuwenhuis
Palerang
2017
Jennifer Hankinson
Richmond Valley
2018
Peter Mills
Central Coast
2019

Phillip Bell

Ian Long

Robert Panitz

Geoffrey Keaton

Andrew O'Dwyer

Samuel McPaul

Colin Burns

Namoi Gwydir

Southern Highlands

Lower North Coast

Cumberland

Cumberland

Southern Border

Far South Coast

2020

Keith Lyons

Jim Shanahan

Lake George

Chifley/Lithgow

2021

Joanne Gaffey

Paul Norton

Gosford

Shoalhaven

2022

Randall Macarthur

Bruce Holz

Michael Holland

Illawarra/Sutherland

Cumberland

Chifley/Lithgow

2023

Tony Hardy

Illawarra/Sutherland