Research
Survey Investigates Catastrophic Fires
The NSW Rural Fire Service is urging residents across NSW to take part in a research project into recent fire conditions being conducted by the University of Wollongong and the Bushfire and Natural Hazards Cooperative Research Centre.
The research focuses on community preparedness and actions taken across the summer of 2016/17 that saw the worst ever fire conditions seen in NSW. Several areas were affected by Catastrophic fire danger and some impacted by significant fires.
This research will help the NSW RFS and other fire services across the country to better understand the community's perception of bush fire risk and how people prepare for it. The survey also investigates how people received information and warnings prior to and during the fires, to see if there are ways of improving how we get information to people.
The survey follows extensive face-to-face interviews between researchers and people in fire affected communities earlier this year.
Participants should allow approximately 20-30 minutes to complete the survey.
The October 2013 bush fires
The NSW Rural Fire Service engaged the Bushfire Cooperative Research Centre and the Bushfire and Natural Hazards Cooperative Research Centre to conduct community research into the October 2013 bush fires.
Research was conducted in three locations affected by the bush fires:
Port Stephens
Blue Mountains (including Springwood/Winmalee, Mount Victoria and along the Bells Line of Road)
Southern Highlands (Balmoral Area).
Researchers conducted face-to-face interviews with people in these communities, to assist with compiling a report for the NSW RFS into community preparedness and response, and to assist with improvements to bush fire safety initiatives.
Research Report
The research report can be accessed below:
The January 2013 bush fires
The NSW Rural Fire Service (NSW RFS) engaged the Bushfire Cooperative Research Centre (Bushfire CRC) to conduct research into the community response to the January 2013 bush fires.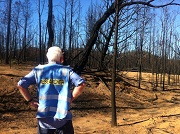 January 2013 saw NSW experience record temperatures, with some of the worst fire danger conditions ever recorded in many locations. By the end of the fire season, more than 6,000 bush and grass fires had been reported, burning 1.4 million hectares, with 62 homes, 50,000 head of livestock and 10,170 km of fencing destroyed.
Areas around Yass, Shoalhaven and Coonabarabran were impacted by large fires. Communities around Yass and Shoalhaven were impacted on 8 January, while the Coonabarabran fire threatened communities on 13 January. All three fires had the potential to have done more damage than they did if extensive suppression activities – such as the use of aircraft – had not been undertaken, if weather conditions had not abated, and the communities had not responded appropriately.
Key findings of the research include:
Many people had a basic plan for what to do when threatened by a bushfire, but few had documented it or used the NSW RFS bush fire survival plan kit to document their response.
Most interviewees felt well prepared and had prepared their family much more than their home and property, and over half had cleared space around their home.
Interviewees, once they received information or warnings, often sought more detailed, localised or updated information, such as from local RFS sources, friends, neighbours and the media.
As the fires spread, the naming of fires based on their starting point did not reflect their current location, leading to some misperceptions of fire position for some people.
While telephone alerts are now the preferred method of warning for many in the community, many interviewees were unable to receive messages due to a pre-existing lack of mobile phone coverage in the affected areas and this contributed to their delayed decision-making.
Few residents understood the implications of the different fire danger levels on their safety, and actions to take at each, apart from Catastrophic.
Research report
The research report can be accessed below: