PFAS environmental investigations
The NSW RFS (RFS), NSW Environment Protection Authority (NSW EPA) and local Councils are working to investigate the presence of per-and poly-fluoroalkyl substances (PFAS) at locations across NSW. Three types of PFAS chemicals – Perfluorooctane Sulfonate (PFOS), Perfluorooctanoic Acid (PFOA) and Perfluorohexane Sulfonate (PFHxS) were common ingredients in firefighting foams, which were used extensively worldwide for many years due to their effectiveness in fighting liquid fuel fires.
The EPA is leading the NSW PFAS investigation program. The EPA monitors the progress of RFS PFAS investigations and coordinates any necessary precautionary dietary advice for people to avoid PFAS exposure.
PFAS in firefighting foams
Firefighting foam containing PFAS was used by some brigades in operational and training activities from 1975 for the protection of people and property.
In 2007, the RFS commenced the removal and disposal of PFAS based foams. Measures have been implemented to identify and appropriately dispose of any possible residual amounts of PFAS foam that may have remained in storage after this time.
RFS no longer uses PFAS containing foam and complies with the Protection of the Environment Operations (General Amendment) PFAS Fire Fighting foam (Regulation) 2021.
Firefighting foams used by the RFS are authorised by the National Industrial Chemicals Notification and Assessment Scheme, the approval body for chemical use in Australia. RFS has only used foams legally permitted for use in Australia.
PFAS in the environment
PFAS compounds have been used in the manufacture of many common household and industrial goods (as shown in the diagram below), as well as historically in certain types of firefighting foams.
These common household and industrial goods include, but are not limited to, stain resistant applications for furniture and carpets, non-stick cookware, fast food or packaged food containers, make up, personal care products, paints, and cleaning products.
Products containing PFAS are being phased out around the world. However due to their widespread use, and persistence in the environment, most people living in developed nations will likely have some level of PFOS and PFOA present in their bodies.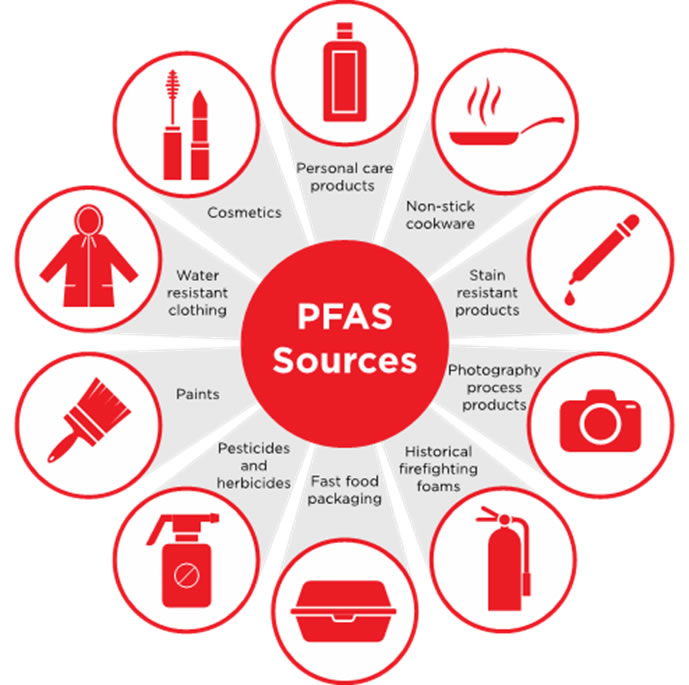 What are the health implications of PFAS?
The presence of PFAS in the environment does not necessarily mean there is a human health risk. In May 2018, the Commonwealth Department of Health's Expert Health Panel provided advice on PFAS health impacts. While there is no consistent evidence of any human health effects related to PFAS exposure, the NSW PFAS Technical Advisory Group is taking a precautionary approach to protecting human health.
PFAS chemicals are emerging as a contaminant of concern because they can remain in the environment for a long time, and can accumulate.
More information
Our commitment to you
We will work to keep you up to date on investigations.
Email pfas@rfs.nsw.gov.au for more information.
Our current detailed investigations
Information updated October 2023