$100,000 injected into bushfire recovery
Published Date: 12 Dec 2013

Summary
Blue Mountains Gazette
The Blue Mountains bushfire recovery received a $100,000 boost last week when the Commonwealth Bank made major donations to the Rural Fire Service and Habitat for Humanity.
The bank's corporate affairs executive general manager Andrew Hall handed over $50,000 cheques to the two organisations at the bushfire recovery centre in Springwood on Friday.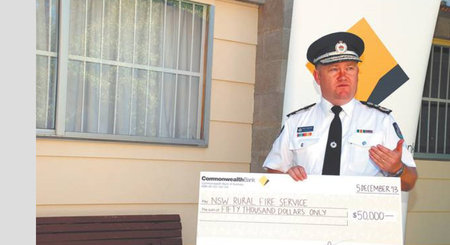 Habitat for Humanity will use the money to help rehabilitate bushfire-devastated properties as part of its Brush with Kindness program. It will employ a co-ordinator to manage teams of about 10 people over at least the next six months.
The teams will help with site clean-up, minor repairs, landscaping and general grounds maintenance in fire-affected properties.
"The value of the donation well exceeds the $50,000 as it will generate volunteer work and goods in kind," said Habitat for Humanity CEO Jon Blackwell.
"We will also give back to the local community by using local tradespeople and businesses as much as we can," he said.
Federal Member for Macquarie Louise Markus said the donation would make a practical difference in bushfire-affected areas.
"Having seen the incredible work of Habitat for Humanity in the past I was delighted to introduce them to the Blue Mountains Recovery Committee. Habitat for Humanity has a proven track record and I am confident this generous donation from the Commonwealth Bank of Australia will enable them to work effectively on the ground," she said.
The NSW Rural Fire Service's Region East — covering the Sydney basin, coastal zones north to Port Macquarie and south to Kiama and stretching inland to Bathurst, Muswellbrook and Merriwa — will use its $50,000 grant to replace valuable equipment which was damaged during the bushfires.
NSW RFS Commissioner Shane Fitzsimmons thanked the Commonwealth Bank for the donation.
"I'm very mindful that this generosity is designed to be shared and to support those [RFS] volunteers that were involved during that fire-fighting effort."
Andrew Hall said the Commonwealth Bank chose the two organisations after consulting the bushfire recovery committee.
"We want to help local communities rebuild. We worked with the local committee and our branches to determine how our donation would be of most use to people and community organisations in bushfire affected areas," he said.
People affected by the bushfires and seeking assistance from Habitat for Humanity should contact the Bushfire Recovery Centre on 4751 6423. The team will refer eligible people to Habitat for Humanity.