Blue Mountains bushfire survivor breaks his silence after 50 years
Published Date: 23 May 2013

Summary
Blue Mountains Gazette
IVAN Thelander was only 16-years-old when he saw four of his mates perish in a bushfire in the Blue Gum Forest.
The teenager had caught the train to Blackheath on an excursion with the Church of England Boys Society in November 1957 when the group was caught in a raging bushfire in the Grose Valley. In a split-second decision that would have devastating consequences, four of the boys ran uphill towards safety while Ivan and three others ran downhill towards the river. The boys that raced towards safety were killed; Ivan and the others survived.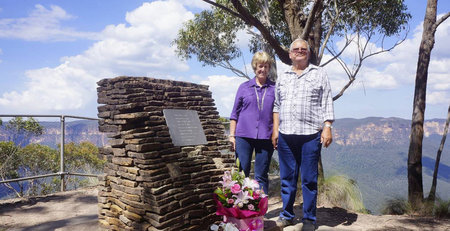 Marg and Ivan Thelander at the memorial to the four boys killed in the 1957 bushfire at Perrys Lookdown. Photo: Wyn Jones.
For almost 50 years Mr Thelander, now 71, was so traumatised by the experience he wouldn't talk about it but last month he shared the harrowing tale for a documentary marking the 1957 bushfire and another devastating fire in Leura two days later. Directed by Laura Zusters, the film screens at Katoomba's Edge Cinema on Sunday, June 2.
Hearing her husband of 46 years talk openly about the tragedy is something Marg Thelander never thought she would witness.
"For many, many years he couldn't talk about it. When I first met Ivan [about three years after the fires] he used to cry all the time. Every time there was mention of a fire he'd start crying and he used to stutter so badly you would never get a conversation out of him. . . [but] eventually he overcame all of that and became really strong," she said.
He had to call on all his reserves of strength on the night of November 30, 1957. After rushing towards the Grose River — unsure if their mates had made it to safety or not — he and the other boys spent a sleepless night while flames as high as houses raged around them.
"Trees were falling in the river and you could even hear them sizzling," he said.
When they walked out the next morning police found them on the trail about 10.30am. It was soon after this they discovered their mates — Peter Tonks, Richard Stephens, Robert McIver and Kevin Phillips — hadn't made it.
"We had to walk past the bodies of the other four boys on the side of the trail, wrapped in big white sheets . . . They were very small, there was not much of them left. Peter Tonks [the eldest at 16] had his arms around the other three. They were all completely burnt, but I could see his woollen hat poking out from the sheet."
The boys' families had rushed to Blackheath by this time and in the confusion one of the mothers wasn't sure if her son, Kevin Phillips, or Ivan had been killed.
"When she looked in the ambulance [and saw me] she collapsed," said Mr Thelander.
The outpouring of emotion following the tragedy was overwhelming. Kids lined the street when Ivan Thelander arrived at his Kingsgrove home later that day after being discharged from Katoomba Hospital. At the funeral for the boys their Belmore North schoomates formed an honour guard and a wall of glass at St Albans Church was created as a memorial to them. Another memorial, containing the ashes of two of the boys, was later built below Perrys Lookdown where the four boys died.
In the aftermath of the fire, Ivan Thelander did everything he could to forget the tragedy. About six months later his sister found him sitting in a boiling hot bath — "I thought it was a cold bath," he said — and he was put in a convalescent home following a nervous breakdown.
Decades later, Mr Thelander is proud to be able to tell his story so others can learn from it. While the documentary shines a light on the amazing resilience of people who survived the 1957 bushfires, one of its main aims is to make today's Blue Mountains residents reflect on the bushfire threat that surrounds them.
Although his story is more harrowing than most, Mr Thelander is just happy to be part of the Blue Mountains World Heritage Institute project. If there was a hero from his own experience he said it was the group's leader, 17-year-old Barry Carter, who organised the Blue Mountains excursion. He told the boys at the back of the group to run towards the river when the flames separated them. "He saved us," said Mr Thelander.
"After the fire passed us Barry ran to get help and give the alarm. He ran for hours in bare feet as his shoes had burnt off. He eventually knocked on a door in Blackheath, then collapsed. Barry was in hospital for months."
Mr Thelander and his wife will attend the premiere screening of the documentary at Katoomba on June 2 but after that they will head back to their Greenacre home — a lifestyle choice that is directly affected by the bushfire tragedy almost 56 years ago.
"Ivan won't live anywhere where there's bush around," said Mrs Thelander.
"It's still too difficult for him."
WHAT: Fire Stores - A Lesson In Time, 1957 Leura Fire, a documentary directed by Laura Zusters.
WHERE: The Edge Cinema, Katoomba
WHEN: Sunday, June 2. Session times: 3pm, 3.45pm, 4.30pm, 5.15pm
COST: Free
FOR MORE DETAILS AND BOOKINGS: Visit www.bmwhi.org.au or call Toni Clarke, NPWS, on 4784-7310.
The Community Fire Stories film and project is sponsored and supported by: Blue Mountains World Heritage Institute, NSW Rural Fire Service, NSW National Parks & Wildlife Service, Department of Sustainability, Environment, Water, Population and Communities, Blue Mountains City Council, The Edge Cinemas and Blue Mountains Gazette.