Woodford RFS brigade celebrates 90 years on May 18th 2013
Published Date: 18 May 2013

Summary
Blue Mountains Gazette
In the wake of a severe bushfire season in 1923, local residents at meeting at Woodford established a bushfire brigade in the village on January 13.
Ninety years later, Woodford Rural Fire Brigade is one of the oldest continuously operating bush fire brigades in the state. As members gather together to celebrate this event, the brigade is also taking steps to record its history.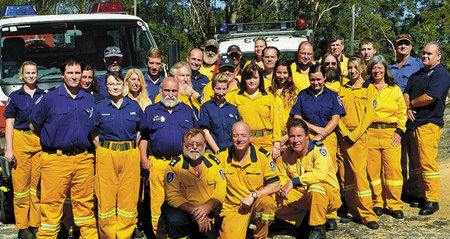 In the last six months members have already uncovered a significant and complex story. Carmel Gammal has taken on the role of brigade historian and has started the painstaking process of compiling records, photographs and living memories.
Ms Gammal said she started discovering Woodford brigade's history by accident.
"A former member, who was attending one of our street meetings, asked if we would be interested in some old minutes of the brigade — he had unearthed them when moving house. These were from 1959 to 1972, and are our first continuous set of minutes. On the first page it was reported that a raffle had raised six pounds — and I was hooked.
"Struggling with different handwritings and grateful to those who typed, and then interviewing long-time and former members, I have been uncovering not only changing technologies, management principles and training, but also an enduring spirit of commitment to our community and an enthusiasm to play a role in protecting it.
"Through knowing our past better we are giving colour to names that we had only heard of, and we are learning lessons from them, often very practical ones. In the years ahead it will become even harder to piece the bits together so we hope to leave the next generation of our members with a record that they can access easily, and add to. No doubt some of our practices will seem quaint to them which just makes the story so much more interesting."
The 90th anniversary will be officially celebrated at a ceremony at the brigade on May 18. The brigade is keen to hear from people who have lived in Woodford or have photos or other artefacts of fire history that could help tell its story.
Peope who can contribute to the brigade's history can contact Carmel Gammal on 4758-6308.The brigade has lost touch with many former members, including members of the Woodford Women's Auxiliary (which later became the current Blue Mountains RFS Catering Unit) and would like to make contact again.
The 90th celebration on the corner of Park Road and Station Street, Woodford starts at 1pm. People wanting to attend can RSVP by May 10 to either: woodfordrfb@dodo.com.au, or mail to Woodford Rural Fire Brigade, Park Road, Woodford NSW 2778.