Hazard Reduction Notification Mount Solitary, Blue Mountains National Park
Published Date: 07 Apr 2018
Summary
Mount Solitary Hazard reduction will take place on Tuesday 10th April 2018, weather permitting.
Please be advised that on behalf of the Blue Mountains Bush Fire Management Committee crews from the National Parks and Wildlife Service and Rural Fire Service intend undertaking the Mount Solitary Hazard Reduction operation, weather permitting:
Date: Tuesday 10th April 2018
Name: Mount Solitary
Location: 4.5km south of Katoomba and 5.5km south of Leura in Blue Mountains National Park between Jamison Valley, Kedumba Valley and Narrow Neck Plateau.
Size: 3475 ha
Lead Agency: National Parks and Wildlife Service
Duration: 2 days followed by patrol
Closures: Narrow Neck Plateau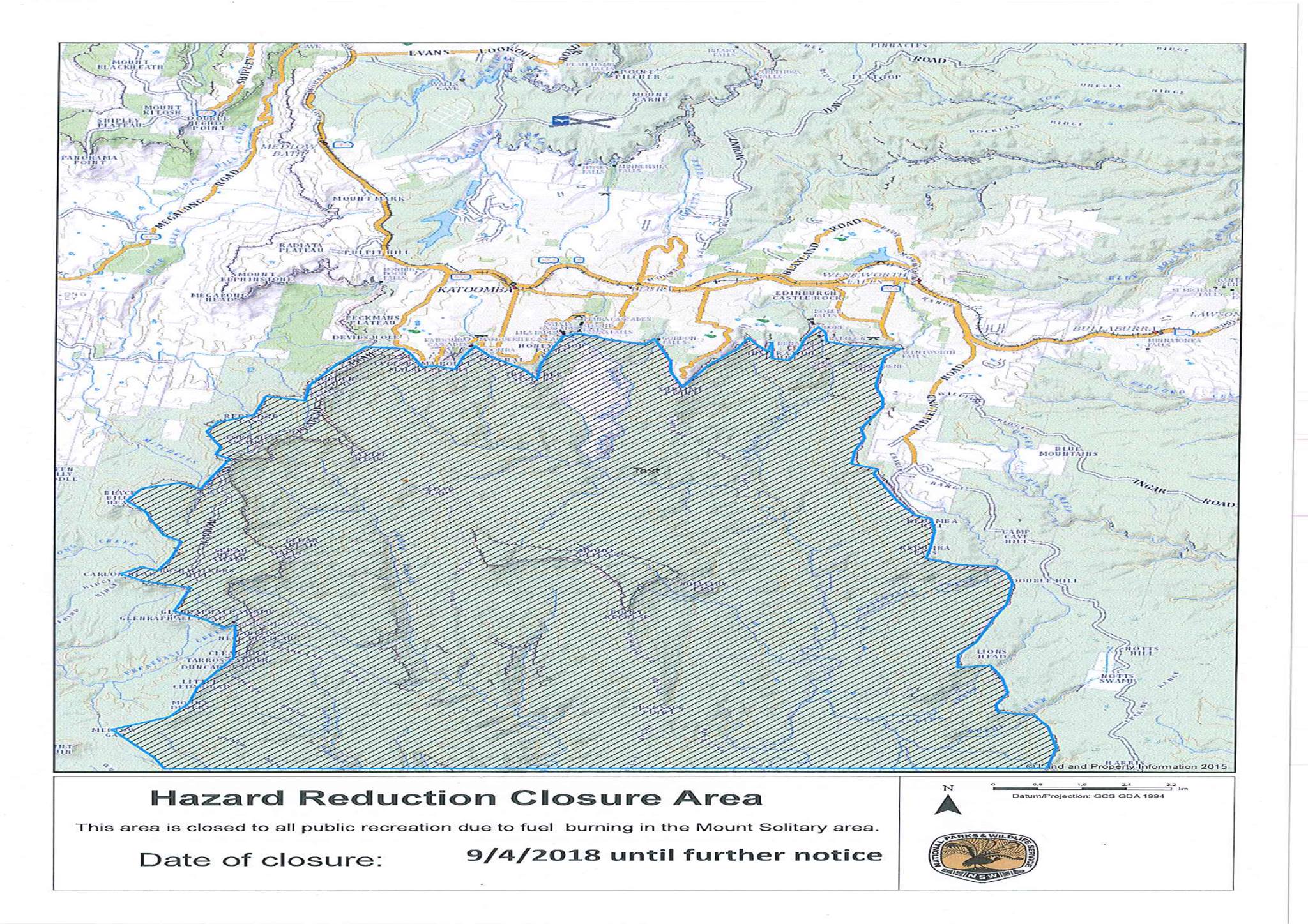 Closure of all fire trails in walking tracks in the Jamison Valley, Kedumba Valley & Narrow Neck will commence Monday 9th April until further notice
Note: Scenic World and Furber steps will remain open. All closures will remain in place until further notice.
Under forecast conditions, smoke may affect the townships of Katoomba, Leura & Wentworth Falls and the Great Western Highway. For health information relating to smoke from bush fires and hazard reduction burning, visit the NSW Health website or the Asthma Foundation.
For more information on planned hazard reduction burns, visit the Rural Fire Service Fires Near Me app or website: www.rfs.nsw.gov.au.
For more information about National Park alerts and closures contact the NPWS Heritage Centre on 4787 8877 or visit the National Parks website: http://www.nationalparks.nsw.gov.au.