About our area
The Mid Lachlan Valley Team (MLVT) is located in the Central West of NSW and combines the Rural Fire Districts of Forbes, Lachlan, Parkes and Weddin and commenced operations on the 1st July 2001.
The Team Headquarters is based in Forbes and the major towns of Condobolin, Parkes and Grenfell form the local government centres within the area. A number of other towns and villages are located throughout the area. The total population is approximately 36,000.
The MLVT area is predominantly used for primary production including crops such as wheat, barley, oats and canola and stock production. There is also significant mining in the area with several operating mines and plans for future development.
The Team covers 29,058 square km including 544 sq kms under the control of State Forests, 369 sq kms of National Park and 27342 sq kms of private land.
The MLVT has 99 Rural Fire Brigades with over 3000 members of which approximately 1200 are active volunteers. The brigades are equipped with a range of modern tankers supplied by the NSW Rural Fire Service each year.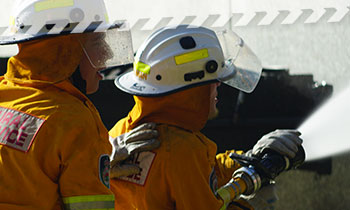 Information from the NSW RFS Mid Lachlan Valley Team