Bogolong-Eualdrie Brigade presentations
Published Date: 15 Nov 2013

Summary
The Grenfell Record
NSW Rural Fire Service (NSWRFS) volunteers have been recognised for their commitment to the Weddin community during a ceremony at Weddin Fire Control Centre.
Eight members of the Bogolong-Eualdrie Brigade were awarded medals presented by Superintendant Ken Neville.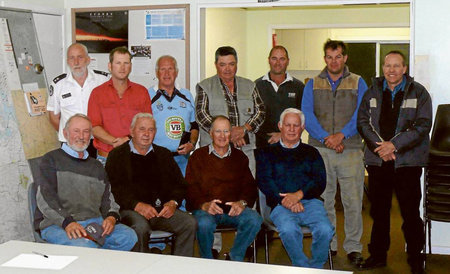 Superintendant Angus Nielson says the NSWRFS community is proud of the achievements of the medal recipients.
"Eight volunteers were awarded Long Service Medals for their years of dedicated work for the NSWRFS".
"These volunteers have between 40 and 57 years of service to the NSWRFS – a combined total of 392 years.
"They've generously given their time to not only fight fires, but to help prepare the community before and during bush fire season.
"They're also regularly called out to help with other emergencies, including storms and motor vehicle accidents.
"They don't volunteer to win awards, but these dedicated NSWRFS members deserve recognition for the time and effort they've put in to help their community."
Superintendant Angus Nielson says while the contribution of all is equally important, special mention must go to Ron McLelland for notching up 57 years of service to the NSWRFS.
"Ron is a well-respected member of the Bogolong-Eualdrie Brigade, and we offer him our congratulations on this outstanding achievement," says Angus Nielson.
Other recipients include Wal Barker – 40 yrs, Ian Armstrong – 43, Roger Dixon – 46, Britt Barker – 47yrs, Ian McKellar – 50yrs, Peter Spedding – 54yrs, Rob Taylor – 55yrs.