RFS volunteers awarded
Published Date: 21 Aug 2018
Summary
The NSW Rural Fire Service (NSW RFS) Mid Lachlan Valley Team last Saturday, August 18, celebrated the dedication and commitment of long serving members and the official handover of a new firefighting tanker.
NSW RFS Superintendent Ken Neville presented Long Service Medals to 20 recipients at a ceremony held at the Quandialla Rural Fire Brigade station, in recognition of their dedication and combined 724 years of service to the local community.
"Nine members being honoured have devoted more than 40 years to protecting the local area from bush fire and these medals are a proud acknowledgment of their service," Superintendent Neville said.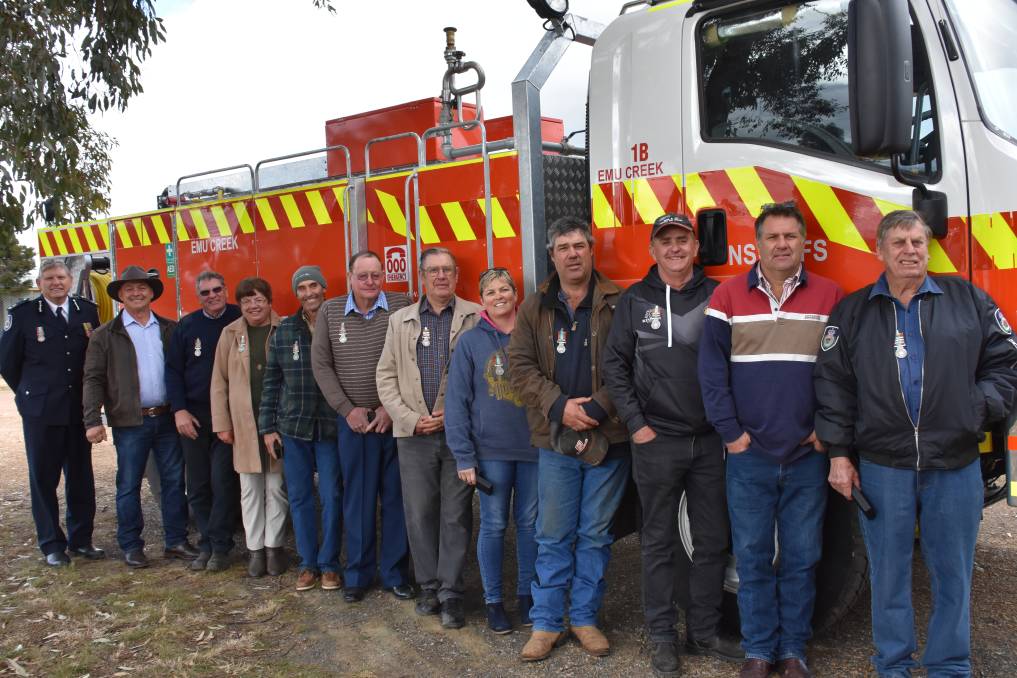 Medal recipients at the Quandialla RFS presentations last Saturday, August 18, with RFS Supt. Ken Neville and Weddin Shire Mayor Mark Liebich.
"Bevan McAlister joined the Quandialla Rural Fire Brigade 62 years ago and has been its captain for the past 42 years, in addition to serving as a Group Captain for 41 years and still managing to find time to fill the roles of Brigade President, Training Officer and Equipment Officer.
"I would also like to make special mention of David Smith, Russell Dixon and Robert McAlister, who are each being honoured with the Long Service Medal 4th Clasp in recognition of their 50 years of service."
Superintendent Neville said the occasion was the perfect opportunity for the community to acknowledge and pay tribute to the efforts of local volunteers and their families.
"The hard work and professionalism of the members being honoured does not go unnoticed and today's event allows us as a community to express our gratitude and say thank you to all NSW RFS members," Superintendent Neville said.
The Emu Creek Rural Fire Brigade were thrilled to also officially receive a brand new Category 1 tanker worth $322,900. Members who received medals for long service include:
Chris Smith 16 years, Daniel Smith 16 years, Janette Dixon 20 years, Suzanne Priestley 23 years, Judy McAlister 26 years, David Dixon 28 years, Christian McAlister 28 years, Ray Penfold 29 years, Chris Dixon 30 years, Kathy Smith 34 years, Garry Penfold 38 years, Chris Causer 40 years, Graham Edgerton 40 years, Terry Penfold 43 years, Kenneth McAlister 45 years, John Priestley 49 years, Robert McAlister 50 years, Russell Dixon 52 years, David Smith 55 years and Bevan McAlister 62 years.
Congratulations to all of these wonderful volunteer recipients.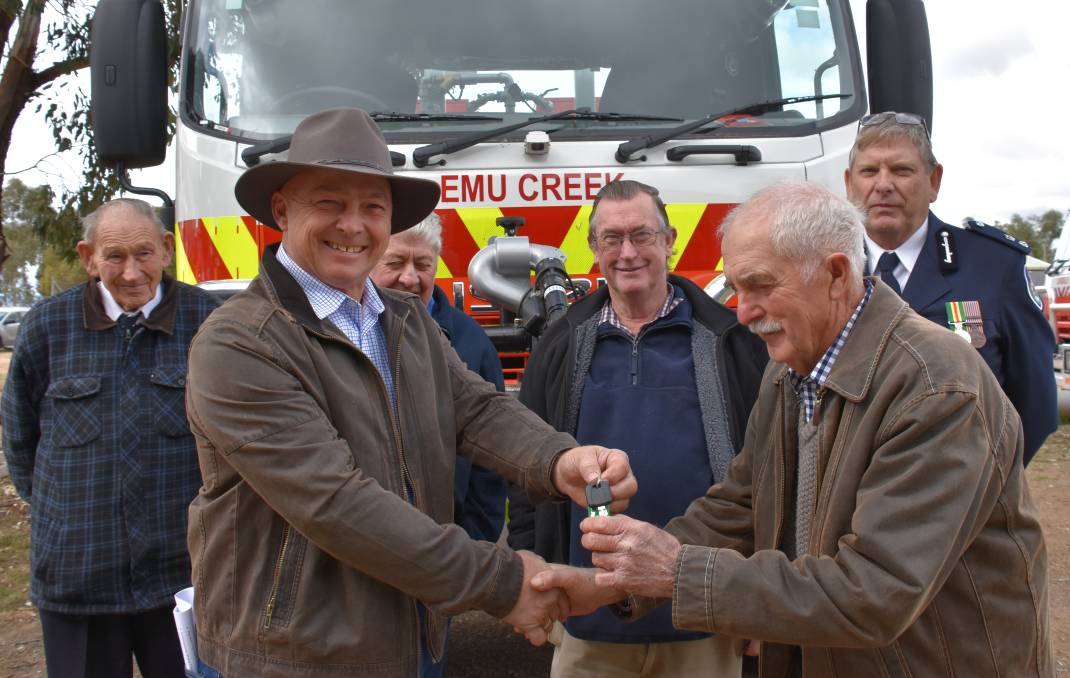 Graham Grimm receives the keys to Emu Creek's brand new tanker from Mayor Mark Liebich with Wally Gam, Ken Edwards, Stan Hazell and RFS Supt. Ken Neville.