National Volunteer Week 2015
Published Date: 11 May 2015
Summary
Today marks the beginning of National Volunteer Week and as one of Australia's leading volunteer organisations, we want to acknowledge the contribution of our 73,746 volunteer members.
The volunteering efforts of our members make a big difference to the community and we say thank you.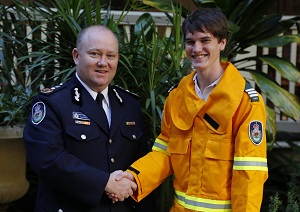 To celebrate the start of National Volunteer Week, two outstanding emergency services cadets were awarded as 'Cadet of the Year' at a ceremony at NSW Parliament House.
Congratulations to NSW RFS Cadet of the Year Tim Pedley for his contribution to the Colo High School cadet program. Tim was elected Captain by his fellow students and took his role very seriously, being described by his colleagues as the 'backbone' of the program.
A big congratulations to NSW State Emergency Service Cadet of the Year Kodie Hardy as well!
934 students from about 60 schools across the State took part in the NSW RFS Secondary School Cadet Program during 2014, and these two boys stood out for their leadership, commitment and dedication. Well done!