NSW RFS members recognised at Resilient Australia Awards
Published Date: 13 Oct 2016
Summary
NSW RFS members have been recognised for their work in protecting communities at the Resilient Australia Awards in Sydney.
A number of projects involving the NSW RFS have been recognised at the awards, presented by Deputy Premier Troy Grant and Emergency Services Minister David Elliott.
They include:
The Hawkesbury Road Project - a project between the Catholic Education Commission NSW and Winmalee Rural Fire Brigade, deliverying school preparedness programs in the Blue Mountains. Winner of the Schools Award category.
Blue Mountains Bushfire Conference and Expo - coordinated by the Blue Mountains Economic Enterprise and sponsored by the NSW Rural Fire Service, this conference brought business, communities, government and research bodies together to discuss technology, products and services to help keep the community safe from bush fires. Winner of the Business Award.
Measurement, Evaluation and Learning Project - lead by the NSW State Emergency Service, the NSW RFS has been a member of the advisory group on this project, aimed to establish ways of measuring the effectiveness of community engagement activities. The project received a Highly Commended award in the Government category.
Get Ready: A Model for Deaf Community Leadership - run by the Deaf Society NSW with partners from the NSW RFS, State Emergency Service, Fire Rescue NSW, Red Cross NSW and Sydney University. This project has helped establish deaf liaison officers for use during emergencies, and been named winner in the Community Category.
Beyond The Emergency Assembly Point Children Services Workshops - lead by the Australian Red Cross, with NSW RFS on the advisory group.
The NSW RFS recognises the support of partner agencies in these projects and congratulates all winners.
You can read more about the annual Resilient Australia Awards here.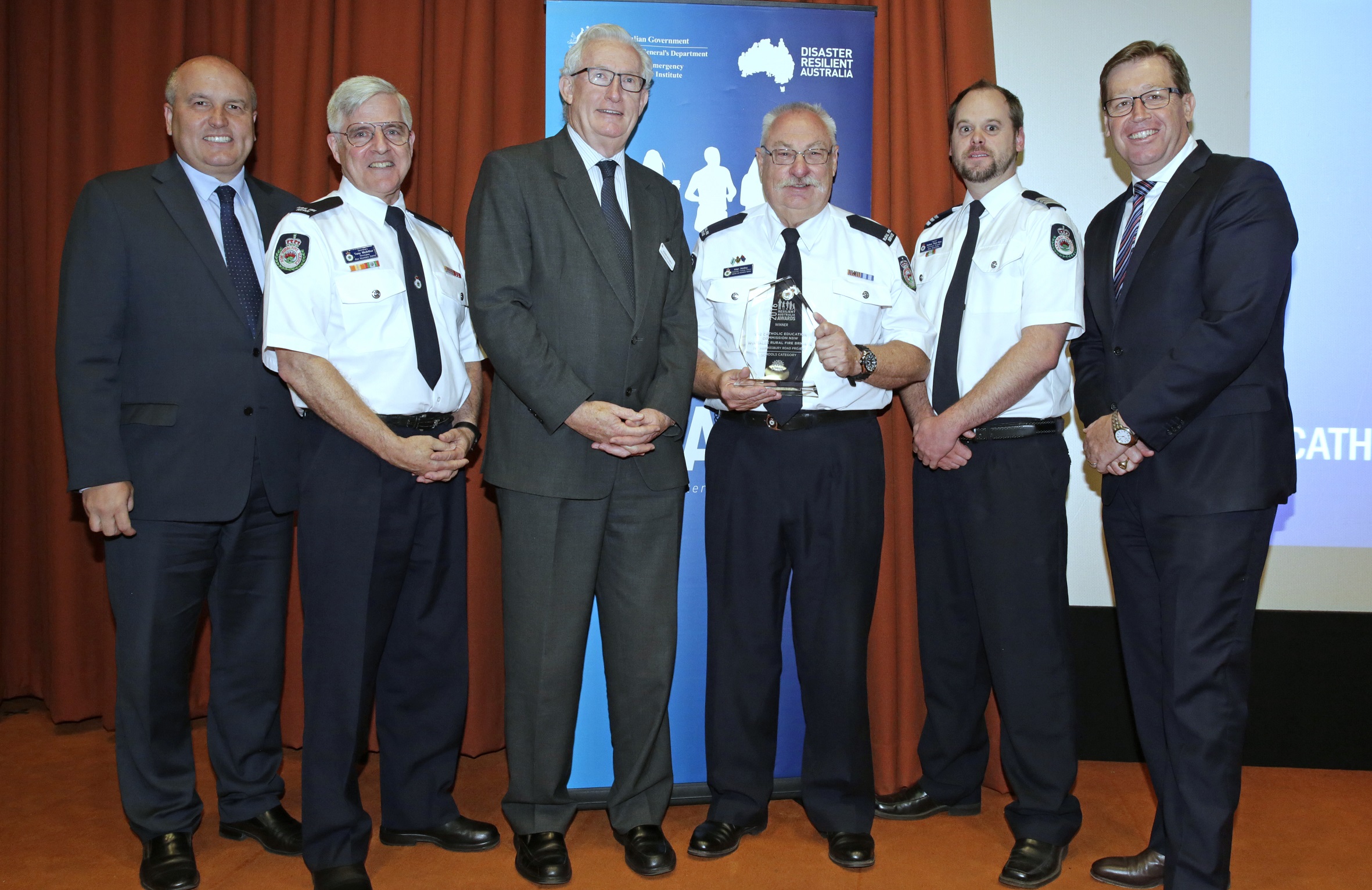 Emergency Services Minister David Elliott, members of the Winmalee Rural Fire Brigade and Catholic Education Commission, and Deputy Premier Troy Grant, at the Resilient Australia Awards in Sydney.