Recognition for our volunteers
Published Date: 04 Dec 2015
Summary
Local community awards have given thanks and appreciation to some of our members.
NSW Volunteer of the Year Awards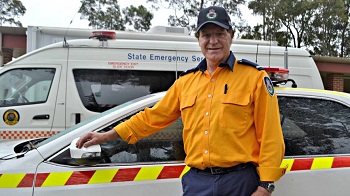 The NSW Volunteer of the Year Awards is an annual program recognising the outstanding work of volunteers in every region across NSW.
Michael Evans from the Illaroo Road Brigade, an NSW RFS member for 44 years, was awarded the 2015 Illawarra Volunteer of the Year for his dedication to the NSW RFS and bush fire safety in the community.
In the Riverina, the Volunteer Team of the Year Award went to The Rock Rural Fire Brigade for their tireless work on behalf of the local community.
John Lincoln Youth Community Service Award
Seventeen year old Ryan Cook of Arcadia Rural Fire Brigade was one of 27 recipients of the 2015 John Lincoln Youth Community Service Award - an initiative of the Order of Australia Association. This award recognises school students who have exceptional records of community service.
The Galston High School student was honoured at a special ceremony at Sydney's Government House in September.
2015 Hidden Treasures Honour Roll
The Hidden Treasures celebrates women volunteers who give so much to their NSW rural, regional and remote communities.
This year 106 women were recognised in the 2015 Honour Roll, including 14 NSW RFS members who contribute to their communities. Each of these women plays a key role within their local areas devoting their time to improving the lives of others and the neighbourhoods they live in.
See the full 2015 Honour Roll here.
Save a Life Award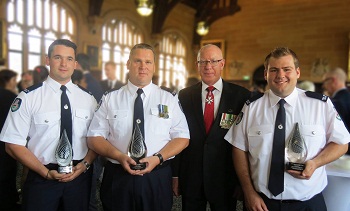 Four NSW RFS members were presented with 'Save a Life' awards at the 2015 St John Annual Awards ceremony.
Timothy Agnew from Duffys Forest Brigade was recognised for using an AED unit to administer defibrillation shocks to a patient who suffered a heart attack and fell off a horse in the arena near the station. Timothy's actions and quick thinking led to the patient regaining consciousness before being transported to hospital for treatment. Timothy also received a NSW RFS Commissioner's Commendation for Service at this year's St Florian's Day awards.
Kellyville Brigade members Nathan Bower, Mark Unwin and Nicholas Samaan assisted at an accident between a cyclist and a motorbike rider during a charity bike ride. The critically injured cyclist was unresponsive and not breathing and the crew performed CPR, requested urgent Ambulance assistance, prepared to defibrillate the injured man and controlled the scene. The crew also provided support to bystanders and family who arrived at the scene after the incident.