A job for everyone at fire service
Published Date: 24 May 2013

Summary
Central Western Daily By Nadine Morton
LAST summer these guys and girls stood among many other volunteers to put there lives on hold 406 times to help their community, but they need more help.
The role of the NSW Rural Fire Service (NSW RFS) is varied and can include anything from catering and communications to front-line fire fighting.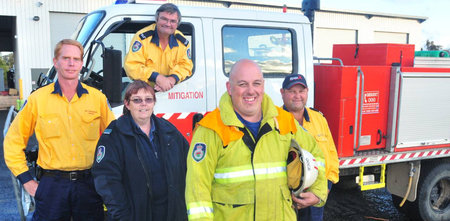 NSW Rural Fire Service volunteers Ian Sutherland, Kerry Beasley, Chris Googe, Stuart Clarke and (in truck) Colin Kearl are looking for new recruits in the Canobolas zone. Photo: LUKE SCHUYLER
NSW RFS Canobolas zone operations manager inspector Steve Smith said call outs can include bushfires, structure fires, car accidents, hazmat incidents and storm damage.
"But equally important are rolls in communications and training," he said.
"The benefit of the organisation is there's a job for everyone."
In the Canobolas zone there are over 2200 volunteers but Inspector Smith said due to an increasing age among many members new volunteers are always welcome.
"Volunteers are the backbone of our community," he said.
There is a great camaraderie among the service Inspector Smith said with many people making friends for life.
A minimum age of 16 years old is required for potential members.
While the official bushfire season runs from October 1, 2012 to March 31, 2012 each year, NSW RFS volunteers give their time throughout the year at many different incidents.
For more information on volunteering roles available visit www.canobolas.rfs.nsw.gov.au or call 6363 6666.