A weight off Stuart's mind
Published Date: 16 Nov 2013

Summary
Central Western Daily By NADINE MORTON
THE magic number for Stuart Clarke was 95. After years of sickness and dire health predictions he has reached his magic number, or weight, and now he says his future is looking brighter.
Mr Clarke desperately needed to lose weight, he was on dialysis and needed a kidney transplant.
His wife Leeanne said she had real concerns for their long-term future together.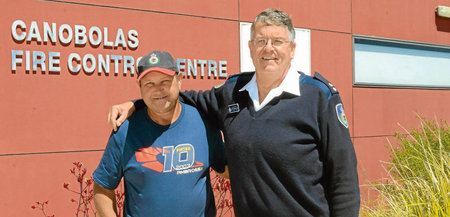 "I just want to grow old with Stuart and have him around to see his kids grow up and have grandchildren," she said.
Mr Clarke was diagnosed with kidney failure in 2010 and would not be put on the transplant list by his doctor unless he could lose weight, and a lot of it.
His need for a new kidney is so urgent, it would take him too long to lose the weight naturally.
While the transplant cost is covered, the gastric sleeve surgery to help him lose weight cost $15,000.
The weight loss surgery is classified as elective and he and his wife were unable to afford it.
This is where his mates at the NSW Rural Fire Service (RFS) stepped in and set about cutting up tonnes of firewood.
In just two months they raffled off bundles of wood to the community and in the process raised more than $25,000 to go towards his surgery and medical costs.
"His mates in the brigade were happy to help and a lot of others wrote out checks," NSW RFS Canobolas Zone superintendent David Hoadley said.
"They all had such an interest in helping him."
Thanks to the community's help Mr Clarke underwent surgery in Septmber and his weight has since dropped from 120 kilograms to 95kg.
"They removed a lot of my stomach, I've got no storage place," he said.
"It gives me more energy and you feel a lot better."
Mr Clarke said he knows none of this would have been possible without help from his mates and the Orange community.
"I'd like to thank the public ... it's really good to have done it [raised the money] so quick," he said.
Until his next medical appointment in early 2014 that will hopefully see him put on the transplant list, he is out enjoying life in a new way.
"I just feel alive now and active and I can ride a pushbike now for the first time in four or five years," he said.
"I get out and ride bikes with the kids."
"I've got a new lease of life and when I get a new kidney I'll feel even better."