Army reservists on standby as Orange crews lend a hand
Published Date: 24 Oct 2013

Summary
Central Western Daily By NADINE MORTON
A WEEK into the Blue Mountains bushfire emergency and now Orange Army Reserve personnel are on standby to respond.
They join nine NSW Rural Fire Service (RFS) volunteers and four Fire and Rescue NSW (FRNSW) firefighters from Orange and Canobolas who left the region to relieve tired crews yesterday morning. Both fire services have rotated crews at the emergencies since they began late last week, with authorities concerned the incidents will continue for a while yet.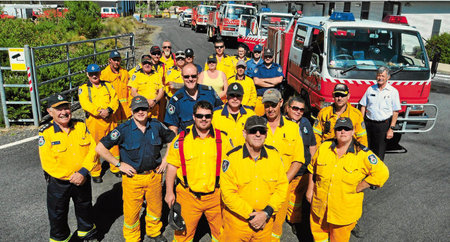 HELP ON THE WAY: NSW Rural Fire Service volunteer firefighters from Cargo, Garra, Lyndhurst, Nashdale, Porter's Mount, North West, Cowra and Blayney were sent to the huge State Mine Fire at Lithgow yesterday morning. Photo: JUDE KEOGH
Army Reserve Lieutenant Colonel Terry Betts of the 1st/19th Battalion said six Orange army reserve personnel were on standby along with 24 others from the western region.