Cargo fires up for Australia Day fundraiser
Published Date: 17 Jan 2013

Summary
Central Western Daily By NADINE MORTON
THE humble yabby race is as Australian as pavlova and if you have not yet raced a yabby your chance is coming up next week at the Cargo Inn.
Australia Day is a huge event at the little pub with revelers coming in their droves to take part in the annual round robin games to raise funds for the Cargo Rural Fire Brigade.
Publican Donna Donelly said this year's line-up promised to be a lot of fun.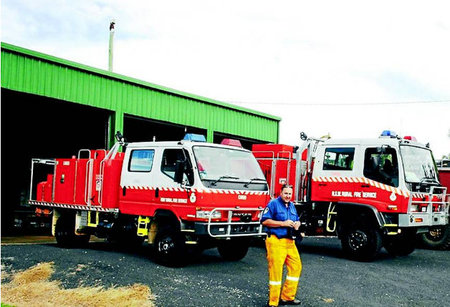 Cargo Rural Fire Brigade deputy captain Rodney Wilson is looking for community support at a fundraiser this Australia Day
People will be split into teams of four or more and work their way through a number of activities.
"We've got pool, hooky, quiots, bocce, carpet bowls and horse shoes," she said.
Following the round-robin events, the ever-popular yabby race will start.
"If we get a couple of large ones we'll auction them off to the highest bidder," Ms Donelly said.
She said fires burning across the state are a timely reminder of how important it is to support your local rural fire brigade.
"Look at all the fires that are going on at the moment, our crews are exhausted," she said.
Last year they raised $1080 for the Cargo Rural Fire Brigade during the Australia Day festivities.
Registrations kick off at 1pm on Saturday, January 26, with round-robin activities to start at 2pm.
Entry is $20 for adults and $10 for children aged over 10 years.
For more information contact 6364 3085.