Extreme Fire Danger Warning
Published Date: 08 Jan 2013

Summary
Central Western Daily By CLARE COLLEY
SWELTERING temperatures, low relative humidity and hot westerly winds will see the fire danger rating reach the 'extreme' category in the central west tomorrow - for the first time since the warning system started in 2009.
The extreme category falls just short of the catastrophic rating - the highest warning possible. Fires burning during extreme periods are likely to be uncontrollable, unpredictable and fast moving, according to the fire danger rating system.
Canobolas Rural Fire Service (RFS) duty officer Brett Bowden said it would be a difficult week for the service, with the fire danger to be two steps up from Sunday's very-high warning.
"Tuesday and Saturday are forecast to be nasty days," he said.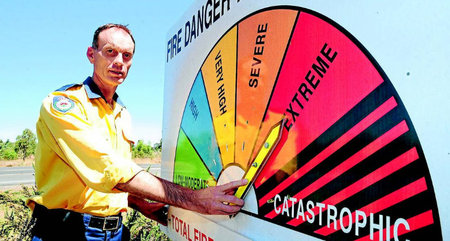 "The temperatures will be quite high, the relative humidity will be very low and the westerly wind gusts will pull the fire danger up.
"It's not just us that has to be prepared, our community has to be ready as well."
Orange sweltered through its second hottest January day on record on Saturday with temperatures reaching 36.5 degrees, just short of the 36.7 recorded on January 15, 2001.
Today's temperature will bring slight relief, with an expected top of 32 degrees, but tomorrow the temperature gauge will rise again to a maximum of 35 degrees. There is also expected to be a total fire ban.
Thursday's top of 28 degrees is predicted to be the lowest temperature for the week, Friday will reach 34 degrees and Saturday also has the RFS concerned with a predicted top of 36 degrees, suggesting it too will reach the extreme fire danger category.
"We haven't had rain since Christmas Day and before that it was a good two to three weeks before the previous rain," Mr Bowden said.
"January so far hasn't seen a skerrick and there is no forecast rain."
Fires at Long Point and in the Baldry/Cumnock area are under control but RFS crews were still on-site yesterday afternoon.
Two helicopters at Long Point continue to patrol the mop-up of 500 hectares of burnt bush.
Mr Bowden said the Canobolas RFS was fortunate to still be running 24 hours a day since the Long Point fire started on New Year's Day, meaning the service was prepared for this week's difficult conditions.
He urged the community to ensure they had a bush fire survival plan in place and said they should leave their property on Tuesday if they did not think it was safe.
He also encouraged the community to put off outdoor work that could start a fire.
"The key thing with the fires we've had start recently is that they've all included a human act, whether it be welders or grinders, people cutting grass or fireworks," he said.
"It's not lightening, it's not acts of God, it's the things people do outdoors."
Extreme fire danger rating
Potential Fire Behaviour
* Fires will likely be uncontrollable, unpredictable and fast moving with flames in the tree tops, and higher than roof tops.
* Thousands of embers will be blown around and into homes causing other fires to start and spread quickly up to 6km ahead of the main fire.
Impact Potential
* Fire can threaten suddenly, without warning and it will be very hot and windy making it difficult to see, hear and breathe as the fire approaches.
* There is a likelihood that people in the path of the fire will die, or be injured and many homes and businesses destroyed or damaged.
* Only very well prepared, constructed and actively-defended homes are likely to offer any degree of safety.
* Power, water and phone networks are likely to fail as strong winds will bring down trees, power lines and blow roofs off buildings well ahead of the fire.
* In the event of a fire, fire fighting resources will be stretched and are highly unlikely to be available to help all properties.
Your Action
* Ensure that your survival is the primary consideration in any decision.
* Leaving early (hours before) will always be the safest option for you and your family.
* If your bush fire survival plan includes the decision to Stay and Defend, only do so if your home is well prepared, specifically designed and constructed for bush fire and you are capable of actively defending it.
* Stay well informed of fire activity by monitoring local media and regularly checking for updates on the RFS website or information line.