Fiery speech from woman of the world
Published Date: 27 May 2013

Summary
Central Western Daily
A FORMER Miss World may be an unusual choice of guest speaker for a Rural Fire Service conference, but Belinda Green knows about fighting fires from her work as a RFS volunteer in the Cowra area.
Ms Green was one of many "very inspiring" speakers at the conference on Saturday giving the zone's volunteers a chance to review what they did last season and build on their hard work before the next one comes around.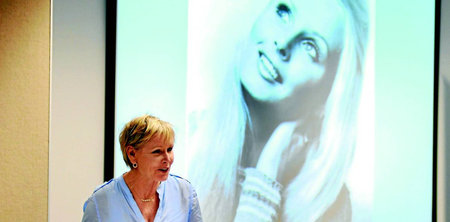 Former Miss World, and now Canobolas Rural Fire Service volunteer, Belinda Green spoke about her experiences in the Cowra area at an RFS conference on Saturday. Photo: STEVE GOSCH
"We're looking back at the fire season and the success we had in the Canobolas Zone in keeping fires under control and small in the conditions we had," Canobolas Zone manager Superintendent David Hoadley said.
"The basis of that good preparation was placing trust in the volunteers and letting the volunteers make the decision on the fire ground.
"The role of the zone is to provide the resources to the volunteers."
Mr Hoadley said there was little the zone would do differently, following the horror conditions of last season
"We'll build on what we learnt this year," he said.
"Of principal importance to us is having good relationships with the community, the media and the volunteers."
Assistant NSW RFS Commissioner Rob Rogers talked about last season from a state perspective leaving Mr Hoadley confident the Canobolas Zone was heading in the right direction,
"From what he said it was apparent what we're doing fitted in well," he said.
Emergency Management Australia director-general Mark Crosweller's reflection on the Canberra fires 10 years ago, was "excellent", Mr Hoadley said.
"In particular he focused on the importance of maintaining the trust of the community," he said.
Mr Hoadley said it was too early to say what sort of conditions could be expected next season.
In the meantime, the RFS is on the lookout for more volunteers to join the 2500 strong Canobolas Zone across 81 brigades.