Fire brigades open for business
Published Date: 17 Sep 2013

Summary
Central Western Daily By NADINE MORTON
SPRING temperatures have started off warm and with bushfire season to start in under two weeks, firefighters have urged the community to come to their open day on Saturday, September 28.
As of 5pm yesterday Orange had received just 13.2mm of rain in a month that usually records 79.7mm.
Temperatures have also been warm, with a daily average of 18 degrees, almost four degrees above the long-term average.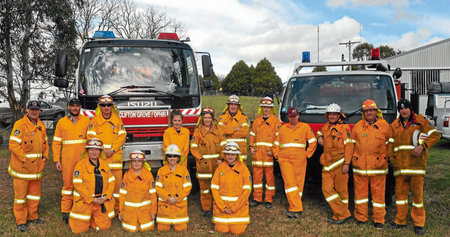 COMMUNITY OPEN DAY: Clifton Grove Ophir Rural Fire Brigade members (back) John Eyles, Ben Periman, Arthur Lister, Kiralee Smith, Renae Schmich, Ken Rawlings, Matthew Eyles, Cheryl Kinghorn, Ian Wotton, Geoff Selwood, Craig Hausler, (front) Kathy Selwood, Josh Dillion, Katrina Smith and Alyce Selwood invite you to come along to their open day. Photo contributed.
Bushfire season starts on October 1 and NSW Rural Fire Service (RFS) stations at Clifton Grove Ophir, North West Orange and Lyndhurst will host an open day to help the community be prepared.
As well as the chance to meet firefighters and take a look at their trucks and equipment, information on creating a bushfire survival plan will be available.
Clifton Grove Ophir community safety educator Alyce Selwood said firefighters would provide practical information on how to prepare for and stay safe during the upcoming bushfire season.
"Learn how to protect your family, house and property," she said.
The open day is also a good opportunity to find out more about volunteer roles available within the NSW RFS.
"Come and meet us and we're also looking for more volunteers," Miss Selwood said.
NSW Rural Fire Service open day times and locations for Saturday, September 28:
Clifton Grove Ophir Brigade:
Come to Banjo Paterson Park, 330 Ophir Road, Clifton Grove
10am to 3pm
North West Orange Brigade
Come to the fire station on Molong Road, Orange
10am to 2pm
Lyndhurst
Come to the fire station at Mid Western Highway, Lyndhurst
10am to 2pm