Fire extinguished quickly near Woodstock
Published Date: 08 Jan 2013

Summary
Cowra Guardian
Firefighters have extinguished a blaze near Woodstock after a tree caught fire in strong winds on Clements Road this morning.
Rural Fire Service brigades including Gap, Holmwood and Darbys Falls arrived at 8.37am to control the fire which spread 10 metres from the tree and threatened to move further.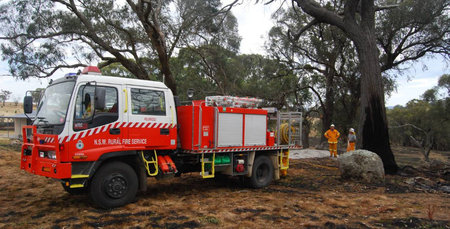 Simon Meek and Gus Hickman of the RFS survey the area on Clements Road burnt in a small fire this morning.
Volunteers put out the fire and pumped the tree with water and will monitor the area today, Gap RFS brigade secretary Simon Meek said.
An extreme fire danger rating is in place for the Cowra district today and a total fire ban remains current throughout NSW.