Fired up at Clifton Grove
Published Date: 18 Jun 2013

Summary
Central Western Daily By JANICE HARRIS
Clifton Grove residents set down some initiatives they would like to see followed up in the coming months at a community meeting on Sunday.
This includes maintenance of fire trails in the area, the illegal use of the trails by motorbike riders and survival plans for residents in the event of a bushfire.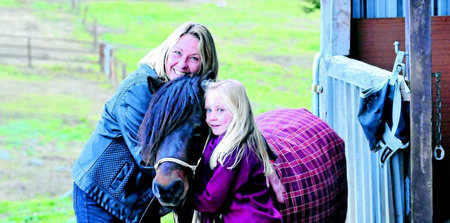 Justeene Cleary and her daughter Cara Crowley hope a safe haven will be in place by next summer for horses and family pets that could potentially be caught up in a bushfire.
Rural Fire Service (RFS) fire mitigation officer Geoff Selwood told the 30 residents who attended the RFS is keen to work closely with residents in the area to ensure they have a survival plan for themselves and can get their animals to safety in the event of a fire.
Resident Charles Everett said in the last few years a growing number of families have purchased ponies and horses for their children and in the event of a fire it would be distressing if they couldn't find a safe haven in the area if a bushfire threatened.
For Clifton Grove resident Justeene Cleary a plan in conjunction with the RFS is important for residents.
"In my situation without a horse float I would just have to get the ponies down to the dam and hope for the best," she said.
However Mr Selwood said with some thought and planning the Clifton Grove working party along with the RFS can come up with a plan that will work for all residents in the area.
"In a place like Clifton Grove the biggest danger to animals around a house and the occupants are grassfires which can break out," he said.
The Clifton Grove community meetings are being held as the result of an initiative in October 2012 where residents were invited to a Clifton Grove community forum to provide Orange City Council with input into the corporate planning process.
Out of that forum a Clifton Grove strategic plan and action plan were developed.
The Clifton Grove working party was formed to review these plans with the Clifton Grove community and identify priorities and direction for the future.