Fundraiser for Stuart sets the world on fire
Published Date: 07 Sep 2013

Summary
Central Western Daily By NADINE MORTON
STUART Clarke's call for help to the Orange community has been answered 20,000 times over and he says he is overwhelmed by the response.
The long-time volunteer Orange Rural Fire Brigade captain desperately needs a kidney transplant, but before he can have the live-saving surgery he needed to lose weight.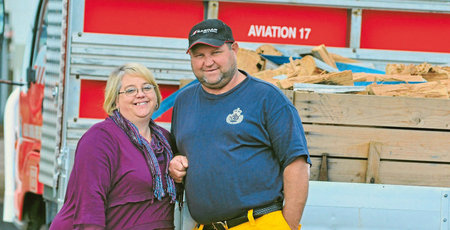 While the transplant cost is covered, the gastric sleeve surgery to help him lose 30 kilograms will cost $15,000.
Mr Clarke's call for help only went out two months ago, and since then the community has rallied to raise over $20,000.
To raise the funds, fellow volunteers chopped up 30 tonnes of wood to kick off a weekly wood raffle.
"I'd like to thank the public, the community and the NSW Rural Fire Service [RFS] for helping me," he said.
Mr Clarke was diagnosed with kidney disease in 1998 and chronic kidney failure in 2010. Since then he has been forced to undergo dialysis three times a week, five hours a day.
Mr Clarke's wife Leeanne told the Central Western Daily she was fearful for what the future might hold for her husband if he did not get the surgery and transplant.
"I just want to grow old with Stuart and have him around to see his kids grow up and have grandchildren," she said.
Mrs Clarke said she felt overwhelmed with how much support they had received from people they had never met through the wood raffles.
"To everyone that's helped out it's been amazing," she said.
"I knew once the RFS got behind us we'd get there but I had no idea we'd get there in eight weeks."
Canobolas Zone RFS acting zone manager Brett Bowden said the community had been overwhelmingly generous during the fundraising.
"Two individuals have donated $1000 each ...[but] the bulk of the money has come from the wood raffles," he said.
Mr Clarke will head to Sydney next week with Leeanne to undergo the surgery thanks to the generosity of the Orange community.
Wood raffle tickets will continue to be sold for the next few weeks to assist with Mr Clarke's ongoing medical costs.
Tickets cost $2 each, three for $5 or 15 for $20 and can be purchased through RFS Canobolas Zone Fire Control, 1385 Forest Road.