Hold your fire at Canobolas Zone
Published Date: 09 Jan 2013

Summary
Central Western Daily By Clare Colley
The Canobolas Rural Fire Service (RFS) zone sailed through the horror fire conditions expected yesterday without major incident, as of yesterday afternoon.
As well as the RFS strike team, the police, four NSW Fire and Rescue trucks, the State Emergency Services (SES), council staff and members of the Orange Aero Club were based at the fire control centre yesterday.
A fire burning at Long Point since New Year's Day flared up at the south-east corner, but helicopters and ground crews were able to keep the blaze within containment lines.
RFS spokesman Bruce Reynolds said some operations would be stood down today if there were no fires.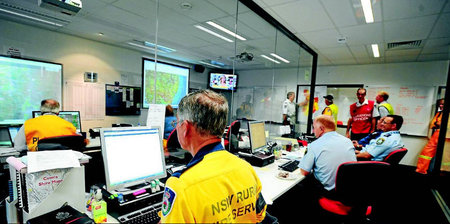 "After a couple of very early morning fires we had no call-ins [on Tuesday]," he said.
"The crews will go back to pagers [today] not at the brigades.
"We'd like to say a big thank- you to the general public on how careful they've been at heeding the warnings."
Cloud cover helped conditions but wind gusts of 69km/h recorded at Orange Airport at 8am yesterday had crews concerned in the morning.
Two fixed wing aircraft based at Orange were sent to fires at Hargraves near Mudgee and Bogan Gate near Parkes.
Mr Reynolds said the scaled back operations today may be increased later in the week ahead of bad conditions expected for Saturday.