Long point a priority before temperatures soar
Published Date: 11 Jan 2013

Summary
Central Western Daily By CLARE COLLEY
The Canobolas Rural Fire Service Zone was yesterday able to escape serious incident, but the Long Point bushfire continues to burn, 10 days after it started.
RFS operations manager Steve Smith said the zone's helicopter continued to bucket down water on the Long Point fire.
"We really want to lock that down prior to Saturday," he said.
"We've had a helicopter and ground crews there everyday this week."
Yesterday's temperature peaked at only 28 degrees and wind gusts at the airport only reached 33 kilometres per hour compared to wind speeds early in the week reaching 69 km/h.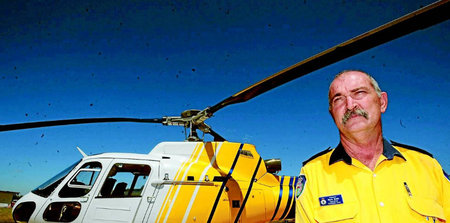 Mr Smith said the RFS was getting ready for bad conditions predicted for tomorrow when the temperature was tipped to top 36 degrees.
"The preparations are as per what we had for Tuesday," he said.
"We've got the helicopter on standby and the crews on standby.
"The wind is not going to be as severe [as Tuesday] but the temperatures are against us."
Sunday is also expected to be a warm day with tops of 35 degrees predicted but there is also a possibility of a shower in the morning, according to the Bureau of Meteorology.
Monday will be cooler with a predicted maximum of 28 degrees and also a possible shower in the morning and afternoon.