Mitchell highway truck fire
Published Date: 16 Jan 2013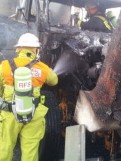 Summary
Multiple brigades were called to a semi trailer fire late yesterday afternoon on the Mitchell Hwy 8 kilometres west of Orange.
The North West Orange Brigade attended along with support from the Molong, Orange and the Orange-Molong Road Brigades.
The cab of the truck caught fire and caused extensive damage to the vehicle as well as igniting the surrounding grass area beside the highway.
The Mitchell Hwy was closed for some time in both directions, Police reopened one lane once the fire was extinguished, this remained the case for a number of hours until the site was eventually cleared.