Nothing to fear
Published Date: 31 Jan 2013

Summary
Cowra Guardian
He flies into bushfire smoke dropping tonnes of water over bushfires around NSW but Cowra pilot Fred Fahey insists his job brings him no fear.
In one of the worst bushfire seasons in years he has spent much of summer in the air, flying between Jindabyne and Grafton to put out blazes flaring across the state.
Mr Fahey's aerial business is one of four contracted by the Rural Fire Service to water bomb blazes, equipped with three airplanes based in hangars at Cowra Airport.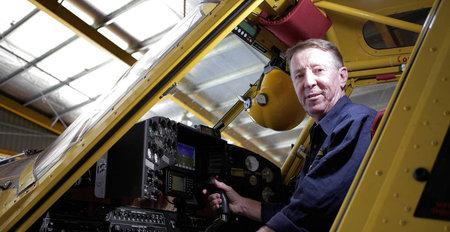 Directly above the fire he does not feel its heat, but can relay its size and speed to RFS crews as they plan their operations.
"Turbulence is what you feel. It's just small bumps. You never really lose visual reference [in smoke]. You're always in visual reference to the ground," he said.
He flew above last week's Grabine fire helping RFS crews locate it exactly.
But the role is less dangerous than it looks to television viewers.
"There's nothing dangerous about this, if we follow the procedures. It's just a job."
His Air Tractor 802 planes have six radios, carry three tonnes of water, and with 1400 litre fuel capacity can reach all NSW.
"The primary role of aircraft is to provide initial attack on fires, to keep small fires small until ground resources are in place and to then back them up," he said.
"We are quite often the first on the scene of a fire because of the high speed of the aircraft, particularly in rugged bush country."
As he water bombs fires he drops dyed retardant to mark areas he's covered, quelling the blazes enough for RFS trucks to move in and fight.
The pilot, who first flew aged 16, began voluntarily water bombing 35 years ago for customers of his aerial spraying and fertilizer spreading service, before the RFS contracted his business 12 years ago.
Power lines and low visibility caused by smoke are chief hazards facing pilots.
"Our number one priority is safety, and all of our pilots are highly trained in this aspect of the job," Mr Fahey said.