Ophir Road fire 'suspicious'
Published Date: 30 Dec 2013

Summary
Central Western Daily By NADINE MORTON
POLICE are looking for witnesses after a suspicious blaze was started north-west of Orange on Monday morning.
Fire crews were called to an Ophir Road property 10 kilometres outside Orange after reports of a blaze burning in a paddock close to the road.
NSW Rural Fire Service Canobolas Zone membership services co-ordinator Nils Waite said there appears to have been some sort of "human intervention".
"The fire appeared to have been deliberately lit," he said.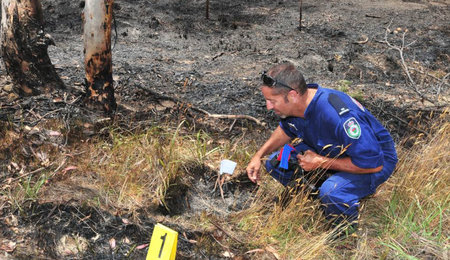 NSW Rural Fire Service Canobolas Zone fire investigator Mike Spira was quick on scene to investigate a suspicious fire north-west of Orange on Monday morning. Photo: LUKE SCHUYLER
"It was on the roadside with no other indicators that could have started it."
Four fire units responded to the scene at 8.55am and quickly had the one-hectare fire under control.
Canobolas Local Area Command inspector Peter Atkins said they are treating the fire as "probably suspicious".
"Detectives and forensic police have been called out," he said.
Inspector Atkins said they "very keen" to talk to the driver of a white/silver coloured dual cab utility that was seen near this location at 8am.
"It's very concerning if there are people are out there doing this but there may be other reasons [it started]," he said.
"We're keen to speak to anyone in this vehicle or [someone] who saw this vehicle."
Mr Waite said fire crews were lucky the blaze had not been started later on in the day.
At 9am it was just 15.7 degrees, according to the Bureau of Meteorology.
"If it was later in the afternoon it could have got up a lot of steam," Mr Waite said.
If you have information contact Orange Police on 6363 6399.