Quick thinking helps contain Woodstock blaze
Published Date: 12 Jan 2013

Summary
Central Western Daily By TRACEY PRISK
Planning and preparation meant the NSW Rural Fire Service (RFS) Canobolas Zone was ready to send crews and machinery when a blaze broke out near Woostock, 52 kilometres south of Orange, on Saturday afternoon.
Canobolas Zone superintendent David Hoadley said everyone at the RFS control centre on Forest Road was on standby when they learnt of the fire at about 4pm.The fire destroyed 434 hectares within three hours.
"We were well organised and had all our brigades, a strike force and staff at the ready, we were prepared," he said.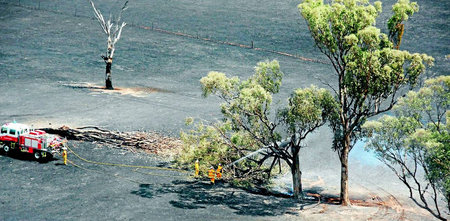 By Saturday evening the Canobolas Zone had deployed three fixed-wing aircrafts, two helicopters, five graders, a bulldozer, a bulk water truck and 22 tankers to the area and mobilised 10 brigades from the region.
Mr Hoadley said containment lines were being maintained late yesterday afternoon and crews would spend the next few days dousing trees and mopping up.
At the height of the blaze 12 properties were under threat and land owners were urged to follow their bush fire survival plan.
While there were no houses lost in the fire, 15 to 20 cattle were killed, along with about 40 sheep.
"It could have been a lot worse," Mr Hoadley said.
RFS spokesman Bruce Reynolds said weather conditions eventually worked in the fire fighters' favour.
"While the wind was strong we didn't get a wind change, which would have created a large fire front," he said.
By late Saturday afternoon Orange was covered in a haze of smoke. "[However] the fire moved across the country very quickly."