Region spared the worst on a nervous day
Published Date: 09 Jan 2013

Summary
Western Advocate By Louise Eddy
Firefighters across the region held their breath yesterday as they faced some of the worst fire conditions they could remember.
With temperatures predicted to soar to 37 degrees, a heavy fuel load, extremely low humidity, and winds gusting upwards of 60 kilometres an hour predicted for late afternoon, all they could do was wait.
They were spared the worst of the forecast temperature, but as other parts of the state hit catastrophic fire danger levels, the danger for Bathurst remained extreme.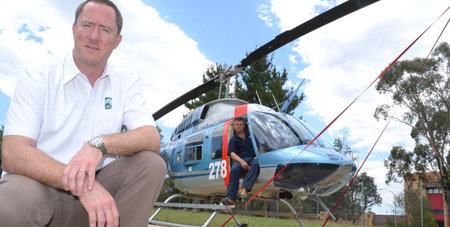 An incident management team made up of the Rural Fire Service, Fire Rescue NSW, Forests NSW and the National Parks Service had intricate plans for how any local bushfires would be handled.
Forests NSW regional manager Gavin Jeffries said there was a fire danger index of 77 in the Bathurst region yesterday.
"Anything over 20 is challenging to control and anything over 30 is near impossible," he said.
"Once you hit 100 the fire danger is deemed to be catastrophic."
By the time yesterday dawned the Rural Fire Service had all stations throughout the region, including those in remote areas, fully manned by volunteers and ready to react at a moment's notice.
Salaried staff had been staggered to ensure the whole day was covered.
In Bathurst itself both permanent and retained firefighters were at the station.
A fixed wing water bomber based at Orange and a heavy lift helicopter based at Lithgow were also ready to roll.
Mr Jeffries, who made the unprecedented decision to close all 25 local state forests, was pleased to see other areas across the state follow suit.
The organisation has also stopped all harvesting work in the state forests.
"It is better to have the industry closed down for one day than lose the lot in a fire," he said.
"All trucks and harvesters have been stood down as a safety precaution.
"I have never closed down all the local state forests – never, but you don't see conditions much worse than this."
Forests NSW had five local fire towers manned from 9am yesterday at Sunny Corner, Oberon, Burraga, Neville and Mt Canobolas on the lookout for the barest whiff of smoke.
All staff were on deck – the three main headquarters at Sunny Corner, Black Springs and Canobolas were fully manned.
Eleven fire tankers and a number of small four- wheel drive utes with water tanks were on standby and crews were driving around the state forests to make sure everyone had left.
Staff went through the campgrounds on Monday asking people to leave, then put up closed signs. They did another sweep in the evening and collected a few more who had entered in the meantime.
Mr Jeffries said after two good growing seasons there was a lot of fuel, such as grass, which ignites very easily.
"Today's combination of high temperature, very low humidity, the volume of flash fuel and wind on the back of it is great cause for concern," he said.
Although a high of 37 was predicted for Bathurst yesterday, in the end temperatures peaked at just over 34 degrees at 3pm.