Roy's distinguished service in the line of fire
Published Date: 31 May 2013

Summary
Central Western Daily By NADINE MORTON
FOR the last 39 years Roy Ferguson has stood in the face of danger to protect his community.
On Saturday he was recognised with the National Medal for Service second clasp.
It's one of Mr Ferguson's many accolades for bravery and diligence since joining the NSW Rural Fire Service (NSW RFS).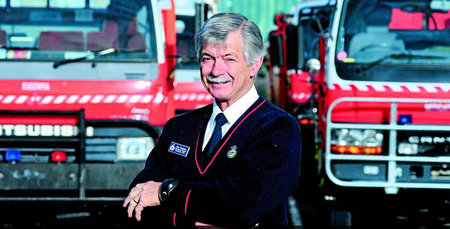 In 2005 he was awarded a Bronze Bravery Medal by the Royal Humane Society of Australasia and in 2007 he received the Commissioner's Commendation for Bravery.
"You don't do it for the awards but other people notice and recommend you, it's a humbling experience," he said.
Mr Ferguson was 27 when he signed up as a volunteer firefighter with his local Blacktown brigade in Sydney.
In the ensuing years he has fought the Black Saturday fires in Victoria, as well as blazes closer to home.
"There's been lots of life-threatening moments and moments when you have been able to help the community," he said.
The National Medal for Service recognises long and diligent service in organisations that protect life and property at some risk to their members.
If someone is, and continues to be, diligent they receive a clasp on that award every 10 years.
"You do it to help the community, it doesn't matter what sort of volunteering you do," he said.
"There's lots of things you get to do something for people, it leaves you with a good feeling."
Mr Ferguson is a volunteer firefighter with Clifton Grove/Ophir Brigade, but also works at Canobolas Fire Control as a zone technical officer.
Canobolas Zone operational services co-ordinator superintendent Brett Bowden said Mr Ferguson is a very worthy recipient.
"He eats, sleeps and breathes the community, that's what he does," he said.
Trajere Brigade volunteer Anthony Townsend was also recognised for his service on Saturday with a third clasp on his National Medal for Service for his 55 years with the NSW RFS.