Small fires prompt bushfire season warning
Published Date: 30 Sep 2013

Summary
Cowra Guardian
Today's Nangar St and River Park Rd grass fires served as a reminder of the upcoming bushfire season.
Cowra's Fire and Rescue NSW Captain Derek Brown says that both fires are still under investigation.
"We were called to the Nangar St fire at 11.27 this morning; the fire ran along the railway line burning an area of 200 metres by 30 metres," Mr Brown said.
"The grass burned very quickly this morning, but we managed to keep it under control."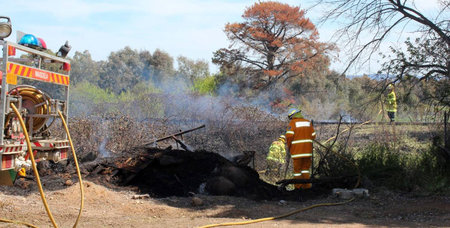 Waugoola Rural Fire Service helping to fully extinguish the Nangar St Blaze.
No body was injured and no property was damaged in the blaze.
The fire was difficult to access because of the location and gusty breeze; three appliances were required to put the fire out.
Cowra's Fire and Rescue had two crews working on the blaze, before calling for assistance.
Waugoola Rural Fire Service then arrived to help corner the fire in the breezy conditions.
"It was difficult to extinguish because it was in a difficult location, the blackberry bushes also made the fire hard to access," Mr Brown said.
"Sleepers also take a long time to put out."
In total it took the crews an hour and a half to properly extinguish the fire.
"There were a number of risks associated with the fire. It was behind a gas works and a number of other adjoining buildings," Mr Brown said.
A fire earlier in the morning on River Park Rd was called in at 9.46am and was extinguished quickly by one crew.
The Bush Fire season begins tomorrow, which means no more permits will be issued for fires and outside fires are banned from being lit.
For more information on rules and regulations in regards to the bush fire season contact your local Fire and Rescue NSW station.