Tap into bushfire survival plan
Published Date: 11 Nov 2013

Summary
Central Western Daily By NADINE MORTON
ORANGE fire crews hope that a newly-created smartphone app will help the local community avoid the devastating impacts of a bushfire.
Since the NSW bushfire season kicked off on October 1, thousands of hectares have been scorched and homes and lives lost in bushfires across the state.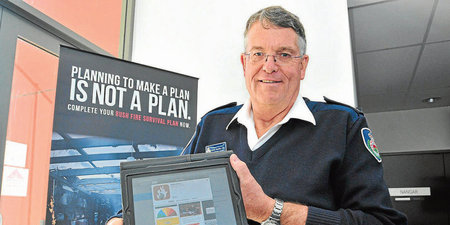 NSW Rural Fire Service (RFS) Canobolas Zone manger Superintendent David Hoadley said the My Fire Plan app allowed people to plan to stay safe from their mobile phone.
"It's much more accessible to people," he said.
Since the devastating 2009 Victorian Black Saturday fires, the NSW Rural Fire Service has urged people to complete a bushfire survival plan.
The plan helps households prepare and plan what to do if a bushfire is in their region.
The new smartphone app guides people through how to assess their risk as well as to prepare their family and property, and whether they will leave early or stay and defend.
Superintendent Hoadley said the messages remained the same in the app as the paper version of the plan.
"If you're going to stay and defend you need to have a well-prepared property," he said.
He said the plan needed to be completed well before the threat of a bushfire and cited many Blue Mountains residents were at work when their houses burnt down.
"A lot of these people went off to work didn't think that their house wouldn't be there when they got home," he said.
"People need to be aware of it, you can't live in the hope of it'll never happen to you.
"It's a hard reality to take in."
Superintendent Hoadley said while the Canobolas Zone may not have as many houses as the Blue Mountains the risk was still there.
"The risk is always there for anyone when you get extreme weather conditions," he said.
My Fire Plan is available for iPhone or Android smartphones.