Zone turns up heat on arsonist
Published Date: 10 Jan 2013

Summary
Central Western Daily By CLARE COLLEY
A GRASS fire, deliberately lit at Lone Pine Avenue on a day tipped to reach the extreme fire danger rating, has shocked and concerned Canobolas Rural Fire Service (RFS) zone manager Superintendent David Hoadley.
"It's absolutelyridiculous that people would do that sort thing," he said.
"Thankfully the police caught them and they've been charged."
"I'd hope that people aren't unaware of what happened in Victoria and Tasmania this week."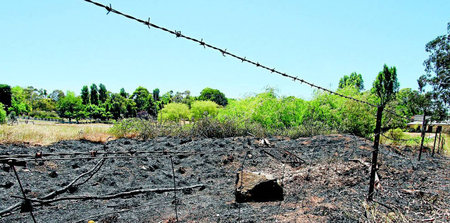 The Canobolas RFS were not called to any new fires as of yesterday afternoon, but Mr Hoadley said firefighters were aware things could change.
"We've been keeping an eye on our three existing fires at Long Point and Baldry and we were also doing some patrols at the North Logan Road fire at Cowra," he said.
"We had flare-ups at Long Point."
Mr Hoadley said crews checked up on two lightning strikes in the zone early on Wednesday morning but fortunately they did not cause any fires.
"Thankfully the community have helped us," he said.
"We've scaled back a little bit but we're still very conscious of it heating up later in the week on Saturday and Monday."
Two helicopters from the Canobolas zone were sent to fight fires at Bogan Gate and Mr Hoadley said aerial resources were being shared around as needed.
RFS volunteers are no longer based at the brigades but remain on call should any fires arise.
Little Lucifer: police charge youth with Lone Pine fire
Central Western Daily By TRACEY PRISK Jan. 10, 2013, 4:30 a.m.
POLICE charged a 17-year-old youth with using matches to start a fire in grassland off Lone Pine Avenue on Tuesday night.
Canobolas Local Area Command duty officer Dave Harvey said police and Fire and Rescue NSW were called to the blaze at around 8.30pm.
When they arrived the fire had already spread, burning grassland in the vacant lot in the middle of a residential area behind Bathurst Road.
Inspector Harvey said the quick action of firefighters and police prevented further fire damage.
"In these current weather conditions it's extremely dangerous for any fires to be lit," Inspector Harvey said. "This fire could have resulted in the loss of property and the loss of life.
"Police will fully investigate all fires and the consequences for anyone who is caught lighting those fires are severe."
Police located the youth, an Orange resident, a short time later near the scene of the fire.
The youth was charged with lighting a fire when there's a total fire ban.
He was released from Orange police station on Tuesday night on the proviso he adhere to a set of strict bail conditions.
He will appear in Orange Local Court in February.