Burned-out car in Clifton Grove sparks bushfire warnings from RFS
Published Date: 28 Dec 2018
Summary
A car was found alight in Clifton Grove in the early hours of Friday morning, sparking fears of bushfires as temperatures continue to rise.
View the Central Western Daily Story
The car – the eighth burned-out vehicle in Orange this month – was found at 4.30am on Banjo Paterson Way, with police and NSW Rural Fire Service volunteers called to the scene.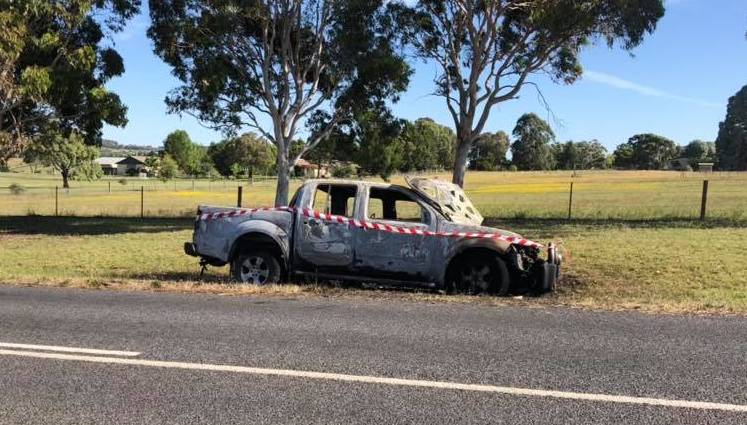 DANGEROUS: The burned-out car along Banjo Paterson Way in Clifton Grove. It's the eighth car set alight this month in Orange and surrounds, and the Rural Fire Service are warning it could spark bushfires. Photo: TROY PHILPOTT.
Central West Police District Inspector Dave Harvey said the fire was contained to the cabin of the vehicle and was extinguished before it could spread to any of the surrounding grass or shrub.
He said it was too early to tell if the vehicle was stolen.
Canobolas Rural Fire Service Inspector Nils Waite said it was "lucky" the incident happened early in the morning, when fire conditions were favourable with a high humidity, low temperature and no winds as opposed to the middle of the day.
He said car fires were "particularly problematic" for firefighters at this time of year.
"[Car fires] can be very hot, so even if they're on green grass they can dry that out and set it alight, and then it can spread from there," he said.
It's worse that it's in bushland, it's dry and over the coming days it will get hotter and dryer. Canobolas Rural Fire Service Inspector Nils Waite
He said the location of Friday's car fire was particularly dangerous.
"It's worse that it's in bushland, it's dry and over the coming days it will get hotter and drier," he said.
It's the third car set alight this month in potentially fire-dangerous positions, with one at Four Mile Creek and another on Burrendong Way near Mullion Creek within 48 hours between December 15-17.
They were two of four cars set alight that weekend.
Inspector Waite said firefighters have enough to worry about without the extra possibility of bushfires coming from burning cars, with a total fire ban put in place across the Central West until the new year.
Temperatures are expected to remain in the low to mid 30s leading up to the New Year, but fortunately winds aren't expected to be higher than 24 kilometres per hour according to weatherzone.com.au.
While the air won't be bone-dry – with humidity hovering around 20 and 30 per cent – the heat and lack of rainfall means conditions could be ripe for bushfires.
There are two active fires in the region, one in Lithgow and another in Goonoo Forest north of Dubbo.