Cudal fire extinguished by 30 firefighters as investigations begin
Published Date: 30 Mar 2019
Summary
A commercial property in Cudal went up in flames on Friday night, closing the main street for hours as smoke billowed into the sky.
View the Central Western Daily story
More than 30 firefighters from the NSW Rural Fire Service and Fire and Rescue NSW responded to the blaze, which broke out in the village about 40 kilometres west of Orange just before 7pm. The building was empty at the time of the blaze, and no one was injured.
Kate Willoughby was one of the first people on the scene and said the mass of smoke was unmissable.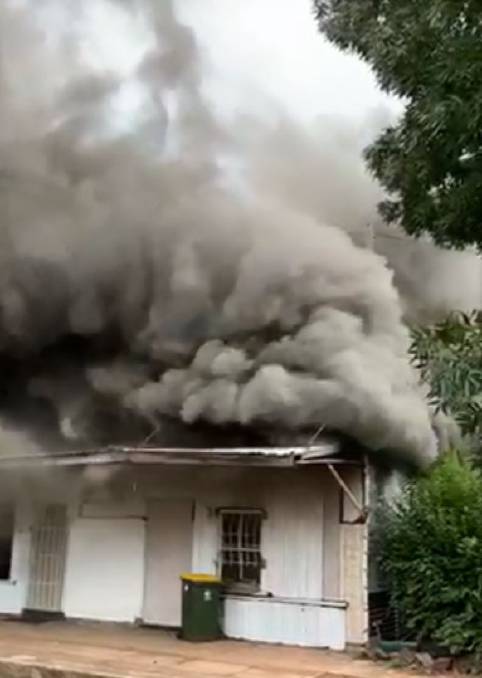 The unoccupied property in Cudal which caught fire on Friday night. Photo: KATE WILLOUGHBY
"I stopped and thought it was someone burning off at the back of their property and that's when I noticed the flames inside the house," she said. "The smoke was so black and thick and all going in one direction that my eyes stung, and I couldn't see through it when I tried to go and get the kitten out of the neighbour's house."
She said local residents helped determine that no one was in the property, with firefighters arriving between five and 10 minutes after the initial phone call raised the alarm.
NSW RFS duty officer Lachlan Allan said firefighters arrived to find the building "fully alight", but due to asbestos in the structure were forced to fight the blaze from a distance until another crew with breathing apparatus arrived. Eleven trucks were dispatched to Cudal, along with police and ambulance units, with firefighters departing between 9.30pm and 10pm, according to Mr Allan.
He said the arrival of rain on Friday night helped firefighters quell the blaze.
With the building fully alight on arrival, firefighters had no indication as to how the fire started, and investigators were on the scene across the weekend to try to determine how it began. No one is believed to live in the building.
Cudal's main street was closed for several hours on Friday night as the fire was being fought, with traffic diverted to other streets in the village.