Join in Emergency Services Day to celebrate those who battled our bushfires
Published Date: 12 Apr 2018
Summary
Robertson Park will become an emergency work showcase on Saturday as the city celebrates the work of those involved in fighting major bush fires on Mount Canobolas and Freemantle Road in February.
A Rural Fire Service [RFS] helicopter, about 20 RFS new and old trucks new, plus other vehicles and equipment from the NSW Fire Brigade, police, ambulance and the State Emergency Service will be present.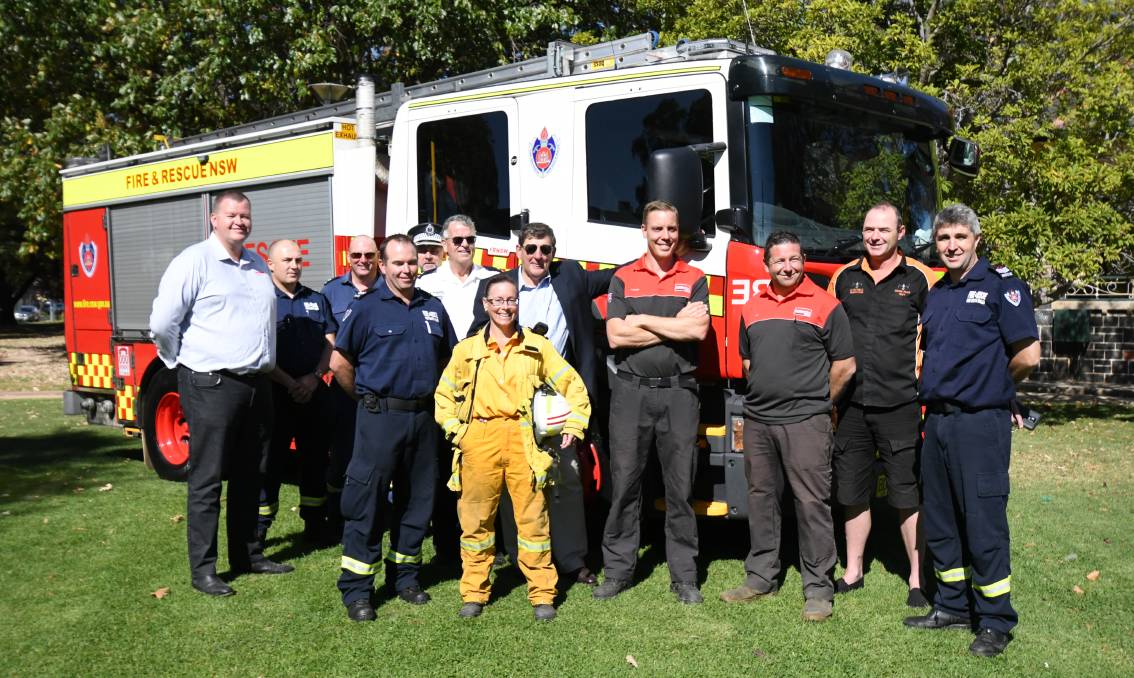 Emergency service workers and Kennards Hire staff are ready for the recognition day on Saturday. From left: Craig McMahon of Kennards, senior firefighter James Patrech, acting station officer Dave Beattie, senior firefighter Robbie Buesnel, Police Chief Inspector Dave Harvey, RFS Superintendent David Hoadley, Clifton Grove RFS deputy captain Katrina Smith, Mayor Reg Kidd, Charlie Wollaston and Luke Compt of Kennards, Troy Pearson [media] and senior firefighter Tim Collins.
The adjacent McNamara Street will be closed for the three-hour thank-you party.
Kennards Hire has organised the Emergency Services Recognition Day which will run from 11am-2pm.
Entry is free and there will be a sausage sizzle plus jumping castles for the children.
Emergency services will have displays of equipment including the NSW Fire Brigade using its jaws of life to cut up a car.
There will also be a video wall showing footage of the blazes plus the 1985 fire also on Mount Canobolas.
RFS Canobolas zone manager Superintendent David Hoadley said 500-600 people had been involved in the fire fight.
"It's wonderful these guys have taken it on board to do something like this," he said.
"No house was lost, no one was injured, losses were minimal.
"The community can appreciate the good work involved.
"It is really great they are being recognised for a job well done.
"It's a bit of a first really."
Orange Mayor Reg Kidd said it was a "great concept" by Kennards.
"It could have been an absolute disaster on Mount Canobolas," he said.
Cr Kidd said the burnt areas on the mountain were slowly re-vegetating.
"It's great to see the amount of re-vegetation that is happening already particularly with the native trees," he said.
"An inch of rain would make a huge difference right now."
Kennards Orange assistant manager Luke Compt came up with the idea for the thank-you day.
"Bringing the town together for such a great purpose makes me proud," he said.
His manager Charlie Wollaston said it was good to recognise the efforts of emergency service workers.
"Often these guys gets under-sung, maybe not intentionally but [it happens]," he said.
He said funds raised would support emergency services.
Kennards zone manager for the Central West Craig McMahon said it was a proud day for the company.
"We get a big kick out of being part of the community," he said.
"Our Orange branch supports a great number of events throughout the year."