Manildra Flour Mill explosion
Published Date: 19 May 2018
Summary
Rural Fire Service Crews were called to the Manildra Flour Mill on Saturday 19th May following an explosion at the mill.
Manildra Flour Mill explosion by Glen Johnston.
Prime 7 news
View the Central Western Daily story
Operations resumed at the Manildra Flour Mills on Monday but the cause of Saturday's explosion likely won't be known until the end of the week.
About 40 people were on-site at about 1.30pm on Saturday when the explosion occurred, injuring one staff member and triggering an evacuation of the facility.
Site manager John Brunner said it was not known what had caused the incident and subsequent blaze, and an independent assessor would work with the facility's owner the Manildra Group to determine how it happened.
He said the explosion occurred in a storage area, activating the mills' sprinklers and alarm systems.
"We're business as usual as of today, all of our employees are back at work and we're running as normal."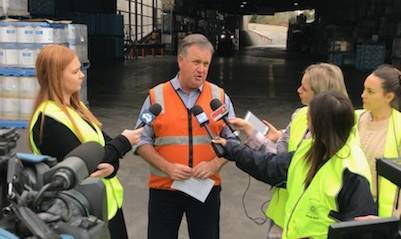 Manildra Flour Mills manager John Brunner talking to the media
The affected area of the site was cordoned off while SafeWork investigated on Monday, and Mr Brunner expected that the cause of the explosion would be known by the end of the week.
"All of our employees were evacuated … and all our employees were taken away from the site," he said.
Mr Brunner said he was thankful no one had been seriously injured, and the worker who had sustained minor injuries during the incident had been able to return home on Saturday night and would be receiving a medical check-up on Monday.
Mr Brunner also said the mills' processing operations hadn't been impacted by the incident, although "we've definitely lost some storage".
He said he was confident the facility was safe and there was no ongoing risk of fire.
"We have very strong maintenance programs for our plant and maintain our plant every week," he said.
"Our equipment has always been updated.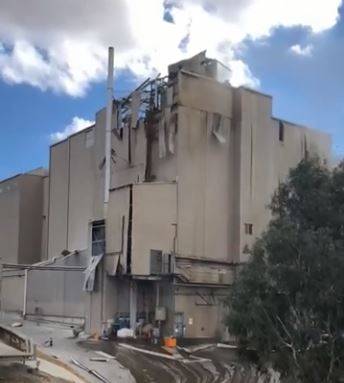 "We're business as usual as of today, all of our employees are back at work and we're running as normal.
"Our mills and our packing recommenced from yesterday, and as of now all our mills and packing operations are running at normal.
"No customers are affected as far as their supply of our product."
Mr Brunner said he was thankful towards emergency services, who he said had responded quickly to the incident.
"Fire and Rescue were on site immediately and they took charge to make sure it was made safe."
Police set up an 800-metre exclusion zone around the facility and the road was closed for nine hours.
Central West Police District Inspector Linda Bradbury said police had handed the investigation over to the Manildra Group and WorkSafe.