Over $5000 of fuel, equipment stolen from firefighters in Ophir
Published Date: 25 Feb 2019
Summary
Over $5000 worth of fuel and equipment has been stolen from a Rural Fire Service station over the weekend.
View the Central Western Daily story
On Friday night or Saturday morning, thieves broke into two single-bay Spring Glen fire station in Ophir and stole a large amount of fuel as well as chainsaws, axes and a cooler fridge as well as other miscellaneous items.
Clifton Grove/Ophir brigade senior deputy Glen Foley-Gallagher said he and fellow volunteers were troubled by the theft.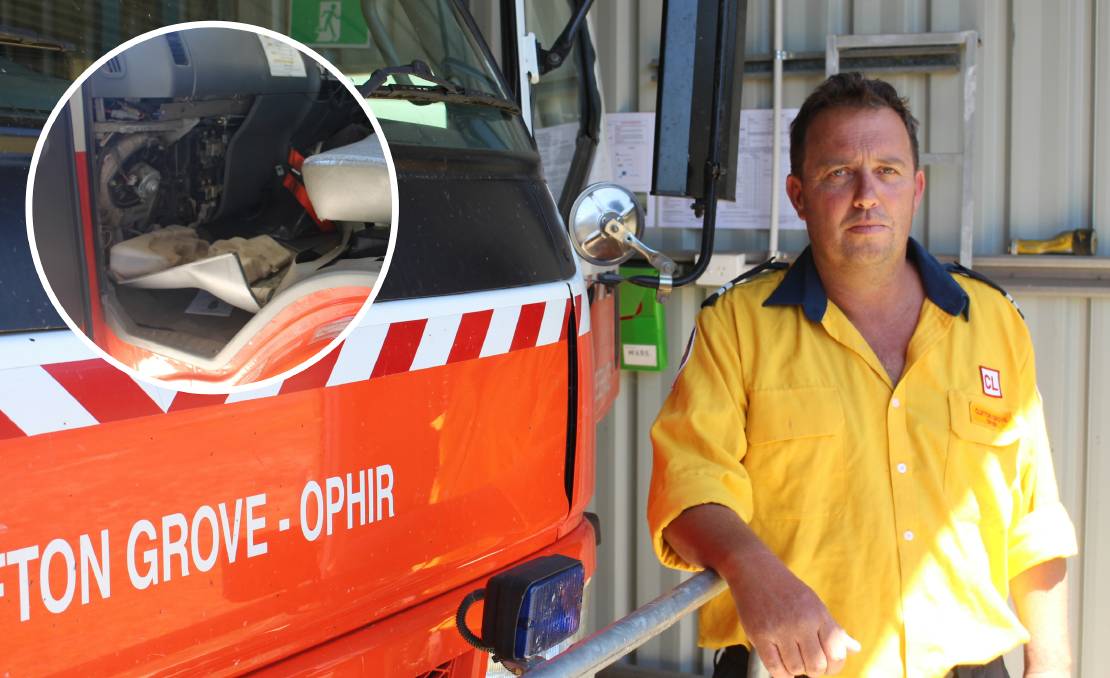 Clifton Grove/Ophir brigade senior deputy Glen Foley-Gallagher with (insert) the damage done to the truck's front panel. Photo: MAX STAINKAMPH
"It's very disappointing to think they steal from volunteer organisations, brigades raise a lot of funds themselves to put gear on the trucks as well so it's very disappointing," he said.
It was the second station hit that night, with another station in Freemantle - which is part of the Chifley area command of the RFS - also broken into.
Mr Foley-Gallagher said he didn't know the specifics of what was taken from that station, but said "looking at the two in one night" it was a possibility RFS stations were being targeted,
He also said it would have an impact on the brigade's firefighting capabilities.
"I am concerned with what's been stolen," he said.
"The main effect for us as a rural fire brigade include affecting our operational capabilities and what we can do when we attend a fire."
It was a sentiment echoed by RFS Canobolas Zone operations manager Brett Bowden, who said the thieves knew exactly what they wanted from the two sheds at the station.
"In the event of a fire and the brigade's access is blocked by fallen timber, they'll have to find another point of entry so it will increase our response times," he said.
"Not only does it affect this brigade but it also affects other brigades who miss out on equipment because the money we spend replacing stolen goods is money not spent on upgrades."