Truck bursts into flames and starts bushfire after highway crash
Published Date: 22 Jan 2018
Summary
A witness has described the scene of a fiery truck crash on Sunday as "chaotic" after the vehicle crashed into a tree and caught fire, resulting in a 10-hectare bushfire.
View the Central Western Daily Story
The Lachlan Valley Way was closed in both directions about 10 kilometres south of Cowra for several hours as fire brigades brought the fire under control.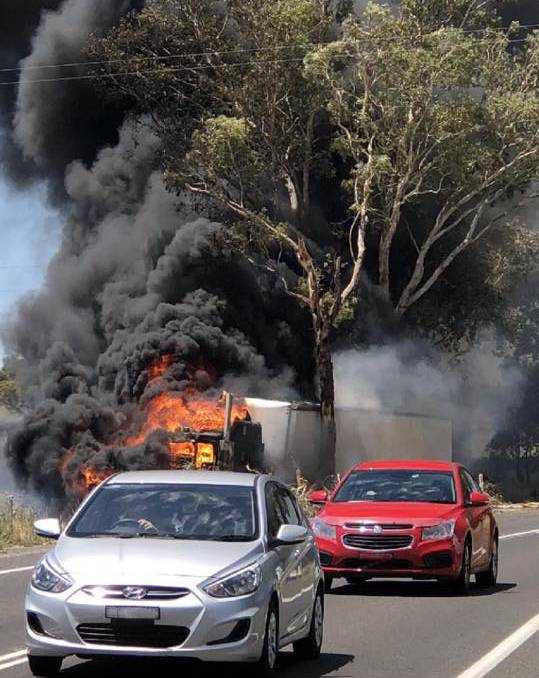 The witness said the driver, 73, was assisted to safety after he managed to escape from the truck which "caught fire straight away".
"Once we got him clear, things just started exploding."
The witness said a number of motorists continued to drive past the exploding truck despite the spreading fire.
"People were still driving through after the fire had jumped the road."
"There were people at either end trying to stop the traffic and people were just paying no attention and just drove through it while things were exploding."
Firefighters commenced firefighting operations to extinguish the blaze, while paramedics attended to the injured truck driver.
Police say an ambulance rescue helicopter was also tasked to the scene, landing at Cowra airport.
Police say the driver was stabilised by paramedics on the scene before he was transported to the airport to meet up the medical trauma team aboard the ambulance rescue helicopter.
The man was further stabilised by a specialist doctor and critical care paramedic before he was airlifted to Orange hospital in a serious but stable condition with suspected fractured ribs.
The highway was reopened at 6pm on Sunday.