Plan and prepare
Farm Firewise
Farm FireWise helps NSW rural landholders prepare for and prevent bush fires. Farm FireWise helps you plan ahead to protect yourself, your family and your property from the potential impact of bush and grass fires.
Grass Fires
Grass fires spread quickly and can threaten lives, property, crops and stock. Protect yourself.
Prepare Your Animals for Bush Fire
During bush fires, people put themselves and others at risk attempting to rescue animals at the last minute. Some refuse to evacuate or go to a safe place because of concern about their animals.
Neighbourhood Safer Places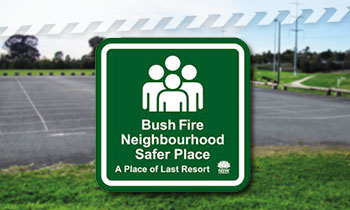 Neighbourhood Safer Places are a place of last resort during a bush fire emergency.
They are to be used when all other options in your bush fire survival plan can't be put into action safely.
You should be aware of any Neighbourhood Safer Places in your area, and note them in your bush fire survival plan before a bush fire occurs. You should also know how to get there, as well as alternate routes in case the road is blocked or too dangerous to drive on.
Not all areas will have a Neighbourhood Safer Place. If there is no Neighbourhood Safer Place in your area, you should identify other safer locations you can go to as a last resort. This might include a nearby home which is well prepared, a shopping centre or oval which is well away from the bush.
A Neighbourhood Safer Place is designed as a Place of Last Resort in bush fire emergencies only. Please note that travelling to or sheltering at a Neighbourhood Safer Place does not guarantee your safety.
Narromine Local Government Area
| Title | Type | Location | LGA |
| --- | --- | --- | --- |
| Tomingley Hall | Building | Newell Highway, Tomingley | Narromine |
| Rotary Park | Open Space | Culling Street, Narromine | Narromine |
| Burns Oval / Pool Complex | Open Space | Cnr Goan & Harris Street, Trangie | Narromine |
| Trangie Agricultural Research Centre Oval | Open Space | Mitchell Highway, Trangie | Narromine |
Dubbo Regional Local Government Area
| Title | Type | Location | LGA |
| --- | --- | --- | --- |
| Mumbil Sports Ground | Open Space | Corner of Naroogal Street and Mackeral Street, Mumbil | Dubbo |
| Burrendong Dam Wall | Open Space | State Water Road, Mumbil | Dubbo |
| Kennard Park | Open Space | 100 Simpson Street, Wellington | Dubbo |
| Market Square | Open Space | Market Square, Wellington | Dubbo |
| Tom Culkin Oval | Open Space | 21 Wellington Street, Geurie | Dubbo |
| Stuart Town School of Arts Precinct | Building | Molong Street, Stuart Town | Dubbo |
| Lake Burrendong State Park - Kiosk 486 | Building | Fashions Mount Road, Mumbil | Dubbo |
| Wellington Golf Club | Open Space | 158 Caves Road, Apsley | Dubbo |
| Nanima Village Oval | Open Space | 300 Nanima Village Road, Wellington | Dubbo |
| Euchareena Hall | Building | Cnr Nubrigyn Street and Bent Street, Euchareena | Dubbo |
| Apex Park | Open Space | Corner of Mitchell Highway and Chelmsford Street, Dubbo | Dubbo |
| Ballimore Fire Station | Building | Bunyip Street , Ballimore | Dubbo |
| Cumboogle RFS Brigade Station | Building | Obley Road, Cumboogle | Dubbo |
| Dubbo Racecourse | Building | Merrilea Lane, Dubbo | Dubbo |
| Elong Elong Community Hall | Building | Dubbo Street, Elong Elong | Dubbo |
| Eumungerie Fire Station | Building | Balladoran Street, Eumungerie | Dubbo |
| Lady Cutler Park | Open Space | Bligh Street, Dubbo | Dubbo |
| Minore Rural Fire Brigade | Building | Sappa Bulga Road, Minore | Dubbo |
| Pioneer Park | Open Space | Howard Avenue, West Dubbo | Dubbo |
| Wongarbon Public School | Open Space | Railway Street , Wongarbon | Dubbo |