National Volunteer Week 2013
Published Date: 11 May 2013
Summary
National Volunteer Week runs from 13 to 19 May 2013 and is a chance to say "thanks a million" to the volunteers who protect, serve and give time to communities right across the country.
The NSW Rural Fire Service has more than 70,000 volunteers who fulfil a variety of roles ranging from frontline firefighting, communications, catering, community engagement, training, aviation support, brigade management and more.
Our volunteers are what makes the NSW RFS and we wish to say "thanks a million".
Get Involved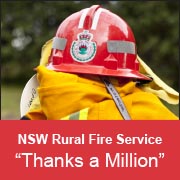 During National Volunteer Week, we're inviting you to visit our Facebook page and leave a message of thanks to our volunteers. You can tag a volunteer you know, or share our special "thanks a million" profile picture.
Other events planned for National Volunteer Week are the presentation of our Cadet of the Year Award, and the announcement of the 12 employers who will receive an inaugural Supportive Employer Special Commendation.
National Volunteer Week is also a great opportunity for people to get involved in volunteering in services like the NSW RFS.
Visit our volunteering page for more information on how you can join the team.
Check out our Facebook page for more information during National Volunteer Week.