Speed and fury - The Cobbler Road grassfire
Published Date: 22 May 2013
Summary
The Cobbler Road fire, which started under Extreme conditions, burnt quickly, travelling 35 kilometres and covering 14,000 hectares within six hours. It caused significant damage to farming country including extensive livestock losses.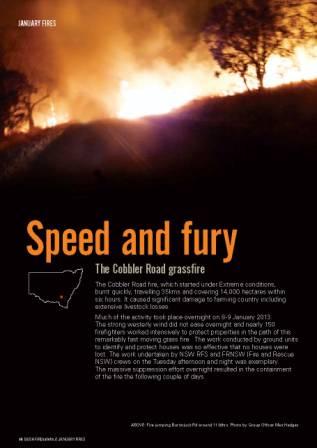 Much of the activity took place overnight on 8-9 January 2013. The strong westerly wind did not ease overnight and nearly 150 firefighters worked intensively to protect properties in the path of this remarkably fast moving grass fire. The work conducted by ground units to identify and protect houses was so effective that no houses were lost. The work undertaken by NSW RFS and FRNSW (Fire and Rescue NSW) crews on the Tuesday afternoon and night was exemplary. The massive suppression effort overnight resulted in the containment of the fire in the following couple of days.
A full incident report of the fire appears in the Bush Fire Bulletin Volume 35 No 1.