Grain Harvesting Guide
The NSW RFS has developed a voluntary grain harvesting guide to help farmers and harvesting contractors determine if it's safe to harvest.
Each year, firefighters attend a number of fires on farms which have been started as a result of harvesting operations. Many of these fires have the potential to destroy homes, crops and livelihoods.
Through a partnership with NSW Farmers and Australian Custom Harvesters, farmers can use the handy guide to determine if it's safe to harvest.
The voluntary grain harvesting guide is being trialed across the 2016/17 bush fire season.
Using the grain harvesting guide - an example
Step 1
Download the voluntary grain harvesting guide.
You will need to measure the current temperature, humidity and wind speed on your property.
For wind speeds, you should average this reading out over 10 minutes. For humidity, round the number down.
Step 2
Then, using the measurements you've just taken, find the maximum recommended wind speed in the table.
For example, a temperature of 40°C and 15% relative humidity equals 26 kph.
Step 3
Compare this result with the wind speed you recorded.
If the wind speed you've recorded is equal to or greater than the number in the table, it is recommended you do not harvest. Reassess weather conditions later.
In this example, if the wind speed on your property is 26 kph or more, you should not harvest.
---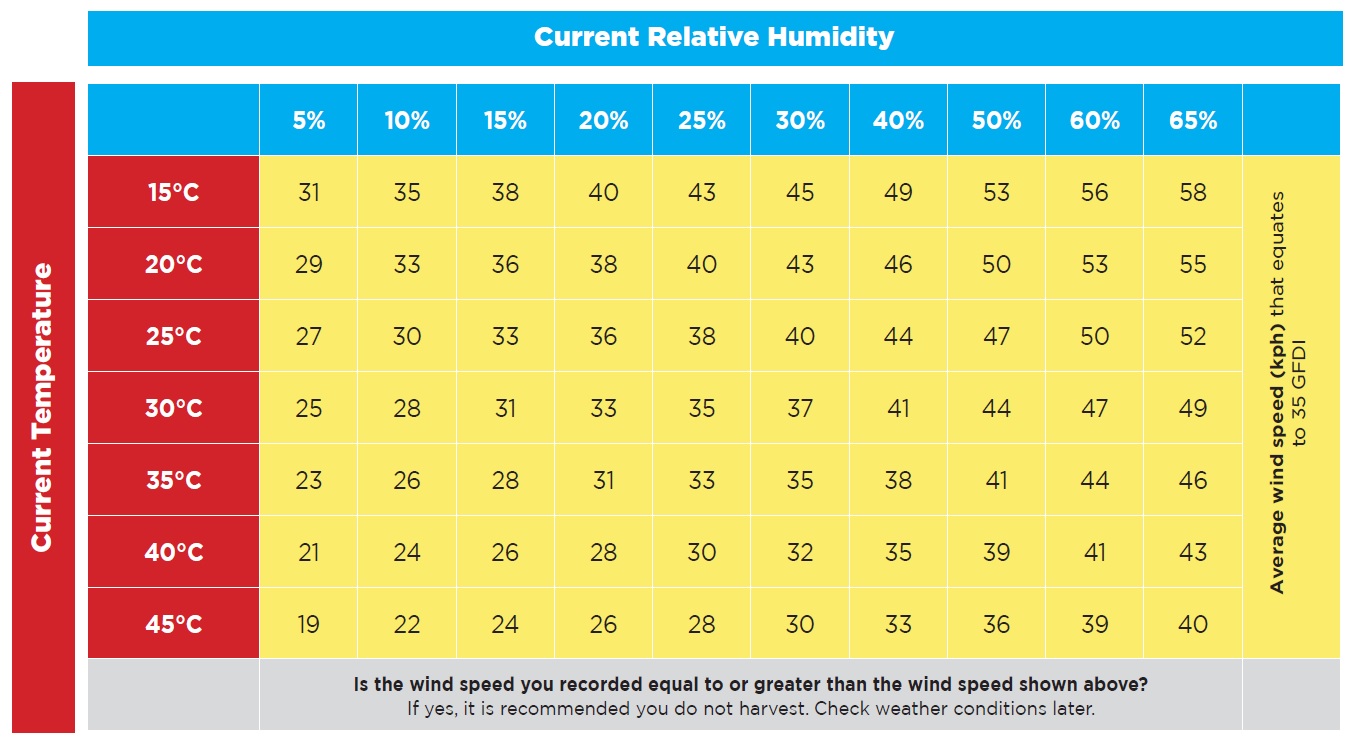 Your responsibilities
Under the Rural Fires Act 1997, any public authorities and owners and occupiers of land have a duty to prevent fires starting or spreading from a property.
Land owners and occupiers must not use any machinery where heated parts of the machine comes into contact with combustible material.
If you are using machinery, or you are welding, using explosives or an angle grinder, you should always carry fire safety equipment such as:
A knapsack spray pump with at least 16 litres of water; or
A fire extinguisher (liquid type) of at least nine litres capacity; or
A dry powder extinguisher of at least 0.9kg capacity.
---
When to cease harvesting
It is recommended that you cease harvesting operations when the Grass Fire Danger Index (GFDI) is 35 or more.
The grain harvesting guide is a calculator that equates to a GFDI of 35.
---
Downloads
---
The NSW RFS acknowledges the support of the South Australian Country Fire Service and South Australian Farmers Federation for their work in developing this guide.